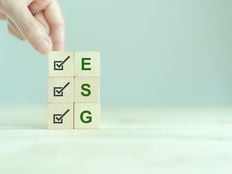 Richard Bernstein Advisors Channel
Environmental, social, and governance (ESG) are on the rise as a foundation for investment vehicles. This has contributed to growth in both the equity and fixed income corners of the broader exchange traded funds space. That includes both domestic and international ETFs. However, advisors and retail investors can find this arena perplexing. There is a seemingly ever-expanding array of ESG options to pick from. The (IRBA ) eases that burden.
In fact, the actively managed IRBA does the job of multiple ESG ETFs by providing investors with exposure domestic stocks and bonds as well as international equities under the umbrella of a single ETF. That convenience positions IRBA to be one-stop shopping for investors looking to deploy ESG for core positioning within portfolios.
Investigating IRBA
IRBA is rooted in the top-down analysis that issuer Richard Bernstein Advisors is famed for. Most asset managers and analysts lean into bottom-up analysis and while there's validity in that methodology, there are clear benefits to the Bernstein top-down approach.
In top-down securities analysis, the starting point is macroeconomic factors. That's useful across any environment, but particularly today when market participants are fretting about issues ranging from Federal Reserve monetary policy to the national debt and international geopolitical risk.
Upon establishing a solid macro framework, top-down proponents can move onto more rigorous sector analysis. Combine that with IRBA's focus and active management and it's possible that the fund can present investors with a higher level of equity and fixed income quality over time.
Another advantage of the IRBA methodology is that Richard Bernstein Advisors uses an ETF of ETFs approach, meaning the fund holds other ETFs. Not only does that keep costs, but it ensures the issuer doesn't have to rely on stock picking to ensure diversification.  That diversification is evident through IRBA holdings with exposure to international stocks, a U.S. value ESG fund and broader equity-based domestic ESG ETFs.
---
Content continues below advertisement
Benefits in a Time of Interest Rate Reductions
Additionally, IRBA's 35% weight to domestic bonds could be notable. This is especially true as some members of the Federal Open Market Committee (FOMC) are flirting with the idea of interest rate reductions.
"The minutes from the May FOMC meeting showed that the Committee had a split view on further rate hikes as they lean more heavily on data dependency in gauging the next policy move," noted Deutsche Bank's Amy Yang. "Specifically, 'some' participants expected additional policy firming would be needed with disinflation progress remaining slower than desired, while 'several' participants noted that further tightening might not be necessary based on their economy outlook. As such, the camp arguing for further policy firming was slightly larger than that supporting a pause."
For more news, information, and analysis, visit the Richard Bernstein Advisors Channel.