By DWS
When it comes to addressing the climate emergency and the broader ESG agenda in the United States, significantly different assessments and pathways are being taken by the Republican and Democratic parties.
The Democrats are espousing an ambitious green agenda while President Trump has been scaling back or revoking many aspects of Obama's environmental agenda. These include the decision to leave the Paris Climate Agreement in June 2017, repealing the Clean Power Plan in October 2017 and diminishing the role of the Environmental Protection Agency, where criminal enforcement is now at a 30-year low.1 This is in addition to successive rulings by the U.S. Department of Labor that ESG may conflict with fiduciary duty and the SEC's decision at the end of last year to amend shareholder rights, which will raise additional hurdles for investors to raise ESG issues with companies.2
We expect a re-election of President Trump would maintain the status quo with little to suggest the administration would seek to promote the transition to a low carbon economy. Rather the administration is likely to safeguard against any legislation that would discriminate against the fossil fuel industry and so preserve the United States' status as the world's largest producer of oil and natural gas.3 Indeed at the start of this year, the President had stated his intention to relax environmental law to facilitate infrastructure building in areas such as roads and pipelines.4
In contrast, a Democratic sweep across the executive and legislative branches would foster the reintroduction of much, if not all, of the Obama environmental legislation and an immediate decree to re-join the Paris Climate Agreement. This legislative change would provide the most obvious tailwinds to ESG-focused investments. Sectors likely to benefit include renewables, building materials, energy efficiency and e-mobility technologies in the transportation sector. Defensive and secular growth stocks would also be positioned well to withstand these significant changes. However, risks to a Democratic sweep would include U.S. domestic earnings, which would likely experience hikes on corporate tax rates. Meanwhile, we would expect traditional fossil fuel companies to be exposed to a more aggressive decarbonization legislation.
A clear difference therefore exists between the Republican and Democratic parties when it comes to their position in addressing the climate emergency and the ESG agenda more broadly. The Democrats are placing carbon neutrality at the heart of their campaign compared to a Republican administration that limits any policies that could threaten the competitiveness of the U.S. economy and specifically the fossil fuel sector.5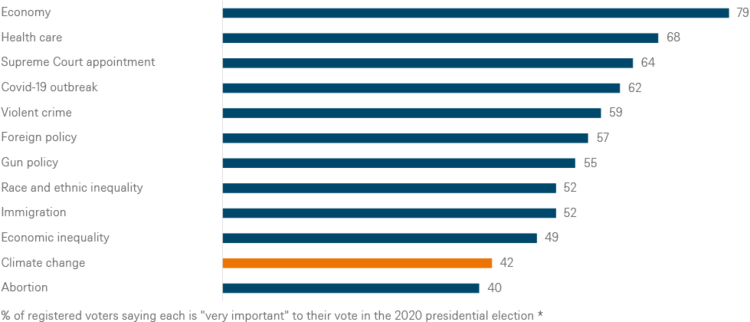 Based on registered voters. Survey of U.S. adults conducted July 27-August 2, 2020
Source: "Important issues in the 2020 election." Pew Research Center, Washington, D.C. (August 13, 2020) https://www.pewresearch.org/politics/2020/08/13/important-issues-in-the-2020-election/
1. Associated Press News (January 2019). EPA criminal action against polluters hits 30 year low
2. US Department of Labor (April 2018) Field Assessment Bulletin No. 2018-01; US Department of Labor (June 2020). US Department of Labor proposes new investment duties rule & SEC (December 2019). Proposed rule: Amendments to exemptions from the proxy voting advice
3. BP Statistical Review (2019)
4. White House (January 9, 2020). Remarks by President Trump on Proposed National Environmental Policy Act Regulations
5. https://democrats.org/where-we-stand/the-issues/environment/
DWS does not promote any particular outcome in the upcoming elections. This information is subject to change at any time, based upon economic, market and other considerations and should not be construed as a recommendation. Past performance is not indicative of future returns. Forecasts are not a reliable indicator of future performance. Forecasts are based on assumptions, estimates, opinions and hypothetical models that may prove to be incorrect.
DWS Investment GmbH as of 9/29/20
R-078660-1 (9/20)
---
Content continues below advertisement