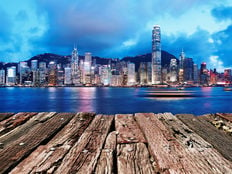 Beyond Basic Beta Channel
Hong Kong stocks and related ETFs roiled in recent weeks as unrest and fears of a global slowdown weighed on this Asian market, but some are looking at the extreme pullback as a buying opportunity.
Over the past month, the SPDR Solactive Hong Kong ETF (ZHOK B+) declined 15.2%, Franklin FTSE Hong Kong ETF (FLHK B+) decreased 14.9% and iShares MSCI Hong Kong ETF (EWH B+) fell 15.5%.
International investors may be eying Hong Kong's market after the swift plunge in prices. Chinese onshore-based investors have already purchased a net $5.1 billion of Hong Kong stocks over the past 20 sessions, the longest run of inflows since February 2018, with the most money exchanging hands in nearly 10 months on Tuesday, Bloomberg reports.
Driving the sudden interest for Hong Kong equities, the financial hub is now trading at cheap valuations, with the benchmark Hang Seng Index hovering around 1.1 times book value, or near its lowest level since late 2016.
Hong Kong ETF Opportunity
After the sell-off, Hong Kong was among the world's worst performers over the past month. The escalating protests and a weakening yuan currency weighed on the outlook for Hong Kong firms. According to Bloomberg data, profits for Hang Seng members are projected to drop the most since the global financial crisis.
"This is a prime time to invest in Hong Kong," He Qi, a Shanghai-based fund manager with Huatai PineBridge Fund Management Co, told Bloomberg. "It's a good opportunity for value investing, and I'm willing to stomach any loss should the market drop further."
Shenzhen Kaifeng Investment Management Co. is also "inclined to go long" on Hong Kong stocks as the worst of the unrest is likely over, according to Gao Bin, the chief economist at the private fund company. Gao argued that there are opportunities in Hong Kong property, financial and some cyclical stocks after investors priced in too much pessimism.
"The market may soon bottom out and I see a good buying window after earnings season. The results and companies' guidance should give investors some hints and clear up their doubts," Tao Yifei, a fund manager at HFT Investment Management Co., told Bloomberg, adding that the valuation gap between Chinese stocks and Hong-Kong listed peers has widened to more than 30%, or near its biggest since February last year.
This article originally appeared on our sister site, ETF Trends.
---
Content continues below advertisement