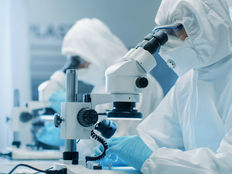 Tactical Allocation Channel
Big pharmaceutical companies were on the hot seat at Capital Hill today with CVS Health, Cigna, Prime Therapeutics, Humana, and UnitedHealthcare's OptumRx testifying before the Senate Finance Committee on the rising cost of prescription drugs.
Among the topics discussed included rebates paid by drug makers contributing to the high costs and the drug industry's pursuit of profits–all to shift the blame from the pharmaceutical companies to the drug makers. U.S. President Donald Trump has already lambasted the pharmaceutical industry for the rising costs associated with prescription drugs.
"Pharmaceutical manufacturers insist that drug price increases are driven by rebates. This is simply not true," CVS Health Executive Vice President Derica Rice said in a written testimony.
However, industry experts feel that government pressure to lower the cost of prescription drugs is simply par for the course and that drug companies will simply move forward even if prices do eventually come down as a result of governmental regulation.
"A major factor contributing to the increase in drug spending is the list price of prescription drugs. Drug manufacturers alone set the list price of prescription drugs," said William Fleming, president of health-care services at Humana. "Drug manufacturers raise list prices to boost their revenue."
Will big pharma continue to deflect the blame from the Feds successfully? If so, here are four exchange-traded funds (ETFs) to consider.
1. Invesco Dynamic Pharmaceuticals ETF (PJP B)
PJP seeks to track the investment results of the Dynamic Pharmaceutical IntellidexSM Index. The underlying intellidex was composed of common stocks of 23 U.S. pharmaceuticals companies. These companies are engaged principally in the research, development, manufacture, sale or distribution of pharmaceuticals and drugs of all types. PJP is up 4.62 percent year-to-date.
2. iShares U.S. Pharmaceuticals ETF (IHE C+)
IHE seeks to track the investment results of the Dow Jones U.S. Select Pharmaceuticals Index. The underlying index measures the performance of the pharmaceuticals sector of the U.S. equity market and includes pharmaceutical companies, such as manufacturers of prescription or over-the-counter drugs or vaccines, but excludes producers of vitamins. IHE is up 9.78 percent YTD.
3. SPDR S&P Pharmaceuticals ETF (XPH B)
XPH seeks to provide investment results that correspond generally to the total return performance of an index derived from the pharmaceuticals segment of a U.S. total market composite index, which represents the pharmaceuticals segment of the S&P Total Market Index. In seeking to track the performance of the S&P Pharmaceuticals Select Industry Index, the fund employs a sampling strategy. XPH is up 14.17 percent YTD.
4. Daily Pharmaceutical & Medical Bull 3X Shares (PILL )
For traders looking to leverage big pharma, they can look to a fund like PILL to get the added exposure. PILL seeks 300 percent of the daily performance of the Dynamic Pharmaceutical Intellidex Index, which consists of common shares of companies that are principally engaged in research, development, manufacture, sale or distribution of pharmaceuticals and drugs of all types.
A government intervention to cut drug prices could certainly put PILL in a tough position, but if things swing the other direction, PILL could continue to its move higher. PILL is currently at an 11.59 percent gain YTD.
For more market trends, visit our Tactical Allocation Channel.