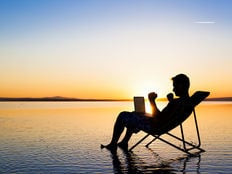 Beyond Basic Beta Channel
U.S. stocks were hit hard Tuesday and further brutalized today, after U.S. manufacturers posted the biggest contraction in September since the end of the 2007-2009 recession, reflecting a slowdown in the U.S. and global economies that is further amplified by a protracted trade war with China.
The Institute for Supply Management released data showings its manufacturing index slumped to 47.8% last month from 49.1%, marking it the lowest level since June 2009, when the so-called "Great Recession" ended. Readings over 50% suggest business conditions are getting better, while those below 50% indicate they are worsening.
"We have now tariffed our way into a manufacturing recession in the U.S. and globally," Peter Boockvar, chief investment officer at Bleakley Advisory Group, said on Tuesday.
But history shows that while things look gloomy now, perhaps there is a silver lining to the last quarter of 2019. Over the last decade, the S&P 500 Index has averaged a 4% gain in the final three months of the year over the according to an analysis of Kensho, a market data analysis platform. The S&P 500 had traded up 80% of the time. In addition, the Dow Jones Industrial Average had added 5% in fourth quarters over the past 10 years, trading positive 80% of the time.
Of course 2018 was an exception to this analysis. Last year stocks got annihilated, making the biggest contribution to a year in which stocks posted their worst performance in a decade. The S&P 500 and Dow tanked 13.97% and 11.8% in Q4 2018, respectively, their worst performances since 2011, while the Nasdaq dropped 17.5% in the period, its biggest quarterly fall since 2008. All three indexes posted losses of near-9% in December 2018 alone. Not a huge surprise after a strong nearly decade-long bull rally however.
Still, Keith Lerner, chief market strategist at SunTrust Private Wealth, composed a note to clients on Tuesday stating that while a draw-down before year-end is possible, he did not expect a pullback "anything in the magnitude of the 2018 sell-off" unless there is a sharp escalation in trade tensions.
While past performance is no indication of future performance, as 2018 demonstrated, over the past three decades, dating back to 1989, the Dow, S&P, and Nasdaq all show roughly 4% gains in the fourth quarter, according to Kensho, and trade positive 75%–80% of the time. Industrials, materials and consumer discretionary were top performers over the past 30-year Q4 periods as well.
While there is much debate about where the markets are headed, if the stocks are poised for more gains, traders can take advantage with leveraged S&P 500 ETFs, such as the Direxion Daily S&P 500 Bull 2X ETF (SPUU A), Direxion Daily S&P500 Bull 3X ETF (SPXL B+) while the Direxion Daily S&P 500 Bear 1X ETF (SPDN ) can be used for pullbacks and selloffs.
This article originally appeared on ETFTrends.com