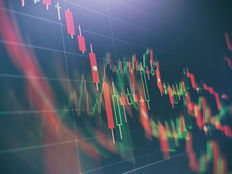 Beyond Basic Beta Channel
In an aging bull market, many anticipate persistent uncertainties with global trade and slowing growth that could lead to more frequent bursts of volatility.
"This is unlike any other time in the markets over the last several years," Don Dale, a founder at Equity Risk Control Group overseeing options strategies, told the Wall Street Journal. "Bigger moves up in volatility and faster moves down…this will become more the norm."
With the markets oscillating, some investors looked to the relatively safety of government bonds. Yields on 10-year Treasury notes, which fall as bond prices rise, are back down to 2.43% or near their lowest level of the year. Investors can gain exposure to Treasuries through various ETFs, such as the iShares 7-10 Year Treasury Bond ETF (IEF A-) for an intermediate-term focus or something like the iShares 20+ Year Treasury Bond ETF (TLT B-) for later-dated Treasuries exposure.
Other investors have turned to volatility exposure to hedge risks, such as the iPath Series B S&P 500 VIX Short Term Futures ETN (VXX B+), ProShares VIX Short-Term Futures ETF (VIXY A) and VelocityShares Daily Long VIX Short-Term ETN (VIIX B-). Volatility typically rises when stocks pullback, so owning volatility is seen as a type of market insurance.
The VIX is a widely observed indicator for investor sentiment in the stock market and measures the expected or implied volatility of large-cap stock options traded on the S&P 500 index. ETFs that track VIX futures allow investors to profit during rising volatility or hedge against short-term turns. However, it has grown more expensive to hedge.
Matt Thompson, managing partner at Thompson Capital Management, told the WSJ he bought options on the VIX that profit if volatility jumps through June but cut back the size of his wagers overall. "In general we're using smaller position sizes than we did five years ago," he said.
For more tactical ETF plays, visit our Tactical Allocation Channel.