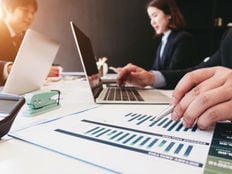 Beyond Basic Beta Channel
By David Scassler, VanEck Portfolio Manager
The VanEck Vectors® Municipal Allocation ETF (MAAX) is the latest addition to VanEck's suite of Guided Allocation funds, which are designed to participate meaningfully in bull markets and seek to de-risk in bear markets. In the following Q&A, Portfolio Manager David Schassler discusses the philosophy and methodology behind the fund.
Why MAAX?
We have long offered a suite of municipal bond ETFs with distinct performance, yield, and duration characteristics. Up until now, we had not offered a vehicle that actually helps investors figure out when to be overweight credit or duration, or, conversely, when to be overweight neither. MAAX was developed to solve this specific problem.
What is the concept underlying MAAX?
MAAX is our fourth offering within the VanEck Guided Allocation Suite, and the idea behind the fund is really quite simple. In most environments, investors are well compensated for taking duration and credit risk. However, there are times when credit risk or duration risk, or both, flare up. During these periods, investors typically need a process for identifying these risks and then avoiding them. These "risk on" periods are when we would seek to de-risk the portfolio by taking either less credit risk, less duration risk, or both.
---
Content continues below advertisement
How does MAAX work?
We use objective, data-driven indicators to figure out when either credit risk or duration risk, or both, are high. When they are, we significantly reduce exposure to them.
These technical and momentum indicators assess price stability within bond prices, credit spreads, cross-asset correlations, and a whole plethora of risks in order to understand just how much credit and duration risk is in the municipal bond market. Then MAAX tactically allocates among our municipal bond ETFs based on the interest rate and credit opportunities.
What outcome does MAAX seek to provide investors?
We think MAAX offers a great way to access the municipal market. Investors have long sought out the benefits of muni investments not only because they have, historically, offered a very low default risk, but also due to the opportunity they may offer for tax-exempt income.
MAAX has been designed to help investors capture potential upside in the market by being overweight credit and duration risks most of the time, while providing downside protection by tactically allocating out of those risks during flare-ups. Ultimately, the fund seeks to maximize long-term after-tax returns, consisting of capital appreciation and income exempt from federal income tax.
IMPORTANT DISCLOSURES
This is not an offer to buy or sell, or a solicitation of any offer to buy or sell any of the securities mentioned herein. The information presented does not involve the rendering of personalized investment, financial, legal, or tax advice. Certain statements contained herein may constitute projections, forecasts and other forward looking statements, which do not reflect actual results, are valid as of the date of this communication and subject to change without notice. Information provided by third party sources are believed to be reliable and have not been independently verified for accuracy or completeness and cannot be guaranteed. The information herein represents the opinion of the author(s), but not necessarily those of VanEck.
An investment in the VanEck Vectors Municipal Allocation ETF (MAAX) may be subject to risks which include fund of funds risk, high portfolio turnover, model and data risks, management, operational, authorized participant concentration and absence of prior active market risks, trading issues, market, fund shares trading, premium/discount and liquidity of fund shares and non-diversified risks. The fund may be subject to following risks as a result of investing in Exchange Traded Products including municipal securities, credit, high yield securities, tax, interest rate, call, state concentration and sector concentration risks. Municipal bonds may be less liquid than taxable bonds. There is no guarantee that a Funds' income will be exempt from federal, state or local income taxes, and changes in those tax rates or in alternative minimum tax (AMT) rates or in the tax treatment of municipal bonds may make them less attractive as investments and cause them to lose value. Capital gains, if any, are subject to capital gains tax. A portion of the dividends you receive may be subject to AMT.
Fund shares are not individually redeemable and will be issued and redeemed at their Net Asset Value (NAV) only through certain authorized broker-dealers in large, specified blocks of shares called "creation units" and otherwise can be bought and sold only through exchange trading. Shares may trade at a premium or discount to their NAV in the secondary market. You will incur brokerage expenses when trading fund shares in the secondary market. Past performance is no guarantee of future results. Returns for actual fund investments may differ from what is shown because of differences in timing, the amount invested, and fees and expenses.
IMPORTANT MUNI NATION®DISCLOSURE
This content is published in the United States for residents of specified countries. Investors are subject to securities and tax regulations within their applicable jurisdictions that are not addressed on this content. Nothing in this content should be considered a solicitation to buy or an offer to sell shares of any investment in any jurisdiction where the offer or solicitation would be unlawful under the securities laws of such jurisdiction, nor is it intended as investment, tax, financial, or legal advice. Investors should seek such professional advice for their particular situation and jurisdiction.
VanEck does not provide tax, legal or accounting advice. Investors should discuss their individual circumstances with appropriate professionals before making any decisions. This information should not be construed as sales or marketing material or an offer or solicitation for the purchase or sale of any financial instrument, product or service.
Please note this represents the views of the author and these views may change at any time and from time to time. MUNI NATION is not intended to be a forecast of future events, a guarantee of future results or investment advice. Current market conditions may not continue. Non-VanEck proprietary information contained herein has been obtained from sources believed to be reliable, but not guaranteed. No part of this material may be reproduced in any form, or referred to in any other publication, without express written permission of VanEck. MUNI NATION is a trademark of Van Eck Associates Corporation.
All indices listed are unmanaged indices and do not reflect the payment of transaction costs, advisory fees or expenses that are associated with an investment in a fund. Certain indices may take into account withholding taxes. An index's performance is not illustrative of a fund's performance. Indices are not securities in which investments can be made.
The Bloomberg Barclays Municipal Bond Index is considered representative of the broad market for investment grade, tax-exempt municipal bonds with a maturity of at least one year. The AAA and BBB indices are sub-sets of this broader index.
Municipal bonds are subject to risks related to litigation, legislation, political change, conditions in underlying sectors or in local business communities and economies, bankruptcy or other changes in the issuer's financial condition, and/or the discontinuance of taxes supporting the project or assets or the inability to collect revenues for the project or from the assets. Bonds and bond funds will decrease in value as interest rates rise. Additional risks include credit, interest rate, call, reinvestment, tax, market and lease obligation risk. High-yield municipal bonds are subject to greater risk of loss of income and principal than higher-rated securities, and are likely to be more sensitive to adverse economic changes or individual municipal developments than those of higher-rated securities. Municipal bonds may be less liquid than taxable bonds.
The income generated from some types of municipal bonds may be subject to state and local taxes as well as to federal taxes on capital gains and may also be subject to alternative minimum tax.
Diversification does not assure a profit or protect against loss.
Investing involves substantial risk and high volatility, including possible loss of principal. Bonds and bond funds will decrease in value as interest rates rise. An investor should consider the investment objective, risks, charges and expenses of a fund carefully before investing. To obtain a prospectus and summary prospectus, which contain this and other information, call 800.826.2333 or visit vaneck.com. Please read the prospectus and summary prospectus carefully before investing.