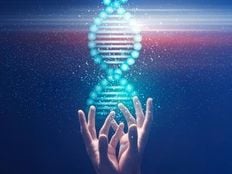 Beyond Basic Beta Channel
With generative artificial intelligence (AI) seemingly gaining traction by the day, more market participants are evaluating where this innovation fits into their industries. Biotech may be next for disruption.
The biotech sector has a long history of innovation, intersecting with disruptive technologies in the pursuit of new therapies and treatments. AI may be next to upend traditional operational models, say market watchers.
That's because larger, mature biotech companies need to replenish product pipelines. Leveraging AI can reduce the need to engage in potentially risky acquisitions and possibly boost research and development efficiencies.
That could mean sweeping positive changes for the companies inside biotech ETFs, like the (BBH B-). BBH, which follows the MVIS US Listed Biotech 25 Index, is primarily home to large-cap biotech stocks, such as (AMGN) and (VRTX).
Analysts Bullish on AI/Biotech Combo
Analysts are increasingly constructive on the AI technology that could benefit biotech firms, including select BBH components. Salveen Richter, lead analyst for the U.S. biotechnology sector at Goldman Sachs Research, recently noted today represents an "exciting period" as tech and healthcare become increasingly intertwined.
"We see the combination of healthcare's vast, multi-modal datasets and AI/ML's competitive advantages in efficiency, personalization and effectiveness as poised to drive an innovative wave across healthcare," she noted in a recent report.
For investors fretting that they've missed out on AI's potential to reshape biotech innovation, those concerns are easily allayed, because biotech companies, including BBH components, are just starting to ramp up use of AI and other innovative technologies.
"Despite all previous innovation, we are still in the early innings. While the promise of AI/ML in healthcare has been there for decades, we believe its role came into the spotlight during the Covid-19 pandemic response," adds Richter. "AI helped companies develop Covid-19 mRNA vaccines and therapeutics at unprecedented speeds. Further, the Covid-19 pandemic underscored the need for digital solutions in healthcare to improve patient access and outcomes, and represented a key inflection point for telehealth and remote monitoring."
Importantly, some BBH member firms, such as Amgen, (GILD) and (REGN), have the balance sheets to support further AI investments, meaning those companies are unlikely to put shareholder capital at risk simply in the name of innovation.
For more news, information, and analysis, visit the Beyond Basic Beta Channel.
---
Content continues below advertisement