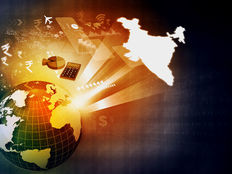 Beyond Basic Beta Channel
With stocks around the world being repudiated at the hands of the COVID-19 outbreak, getting investors interested in emerging markets is a tough task, particularly when it comes to small caps and volatile markets, such as India.
All that said, investors should keep an eye on the VanEck Vectors India Small-Cap Index ETF (SCIF C), which has been one of the best-performing India ETFs this year.
Governmental regulation in India, as in the case of most emerging markets (EM) countries, has been a primary roadblock when it comes to foreign business investment. However, more government initiatives, particularly in the internet of things and eCommerce, can spur more opportunities for investors to get in on the action in EM.
SCIF tracks the MVIS India Small-Cap Index, "which includes securities of small-capitalization companies that are incorporated in India or that are incorporated outside of India but have at least 50% of their revenues/related assets in India," according to VanEck.
India has been enacting a number of economic reforms to further strengthen growth, including announcements to boost consumer demand, bolster imports and attract investments into the country.
Sizing up SCIF
"Vibrant is an accurate descriptor for SCIF as the India ETF is up 3.2% this year. Not only is that better than large-cap India ETFs, but SCIF is also topping the MSCI Emerging Markets Small-Cap Index as well as the major U.S. small stock benchmarks," reports InvestorPlace.
Market sentiment also strengthened on a boost in India's services and manufacturing activity, which both gained momentum earlier this year, driven by rising new work orders that fueled a faster increase in output and job creation.
"The fund allocates just 11% of its weight to financials, tying that sector for fourth with healthcare on the SCIF roster. Industrial and materials names combine for almost 37%," according to InvestorPlace.
"Although SCIF is more volatile than broader domestic and emerging small-cap ETFs, the fund is worth a look because market observers believe demand for small Indian equities will be strong over the course of 2020."
SCIF holds 172 stocks and with a price to earnings ratio of just 11.28x, the fund is attractively valued relative to domestic small-caps and the broader emerging markets universe.
This article originally appeared on ETFTrends.com.
---
Content continues below advertisement