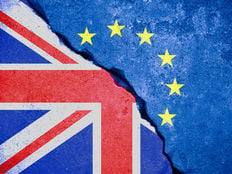 Beyond Basic Beta Channel
Amid ongoing political turmoil in the U.K., the Vanguard FTSE Europe ETF (VGK A) is up nearly 3% this month, an impressive move against the Brexit backdrop, but data indicate some investors aren't sticking around to see what happens next with largest US-listed Europe ETF.
European markets have been mired by political risks surrounding Brexit, government finances in Italy and weak German growth. Additionally, talks of a new tariff spate with the U.S. also dampened investors' moods. Sentiment also worsened after the European Central Bank (ECB) cut forecasts for growth in early March.
VGK, which tracks the FTSE Developed Europe All Cap Index, allocates 27.2% of its weight to U.K. equities, by far the ETF's largest geographic exposure.
"Close to $177 million has left the Vanguard FTSE Europe ETF in September, after the fund suffered its biggest daily withdrawal in more than 10 months," according to Bloomberg. "More than 23% of its holdings are in British companies, which still have little clarity on the nation's future relationship with the European Union."
It's All About Timing
British lawmakers, though, voted Wednesday to again delay Brexit, impeding Johnson's effort to take Britain out of the European Union at the end of October, the Wall Street Journal reports.
The latest results will significantly reduce the chances that the U.K. will leave the European bloc on October 31 without a deal in place to diminish expected economic disruptions.
Related: Currency-Hedged ETFs for Europe Exposure as ECB Considers Rate Cuts
Europe's equities also look more attractive, with valuations of European and U.S. equities exhibiting their widest divergence since the end of 2016 on certain measures. According to FactSet data, the Stoxx Europe 600 was trading at 14 times forecast earnings, compared to the S&P 500's 17 times, which represent a wider gap than its long-term average over the past decade.
"The outflow from Vanguard Group's $13 billion fund, known as VGK, came as the U.K. Parliament moved to block Prime Minister Boris Johnson's efforts to take the country out of the EU on Oct. 31, with or without a deal," reports Bloomberg. "Johnson suffered a sixth-consecutive defeat in the House of Commons — this time over his attempts to call a snap election — on Monday and Parliament is now suspended. The prime minister has promised to work toward a deal."
This article originally appeared on ETFTrends.com.
---
Content continues below advertisement