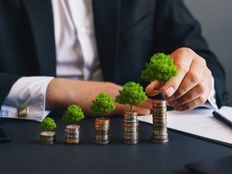 Beyond Basic Beta Channel
Clean technology and renewable energy equities, broadly speaking, are performing solidly this year and that could set the foundation for more substantial long-term gains. That's the take of some professional market observers closely monitoring the green equity space and if those prognostications prove accurate, a variety of green stocks and exchange traded funds stand to benefit. The (SMOG B-) is part of that group.
Home to nearly $199 million in assets under management, SMOG turns 16 years old in May. The ETF is performing admirably this year and could be poised to benefit as climate change spending approved in the Inflation Reduction Act is deployed this year. On a related note, the Treasury Department is expected to bring more clarity regarding electric vehicle tax credits.
"We expect that we'll get more clarity between now and the summer. For example, Treasury EV guidance, which we expect by the end of March. This will provide certainty for carmakers as they evaluate their supply chains. We might also get some light-duty vehicle information regarding emissions from the EPA," according to BNP Paribas research.
Any help on the electric vehicle front could potentially be rewarding to SMOG investors because Tesla (NASDAQ: TSLA) is the ETF's largest holding at a weight of 8.60%. SMOG is also home to three China-based electric vehicle manufacturers.
While vehicle demand, electric or otherwise, ebbs and flows with broader economic conditions, SMOG's broad-based approach to clean energy investing could shine through for investors in several ways. Those include increasing the adoption of wind and solar energy, among other concepts.
"There's been a lot of excitement over the U.S. Inflation Reduction Act, with over USD 40 billion of new capital committed to 13 gigawatts of new green energy projects and 20 manufacturing facilities just by last December," added BNP Paribas.
Another point in SMOG's favor is that it's a global ETF with U.S. equities accounting for just over 37% of the fund's roster. SMOG's heavy exposure to European equities, which account for approximately a third of the portfolio, positions investors to capitalize on massive green energy spending across that continent.
"The European Commission should start to work on implementation in the coming months if that approval comes through, as we'd expect. In summary, it's pretty exciting and it's been a fairly efficient process so far that's moving faster than I had originally thought. Between the EU action, the U.S. Inflation Reduction Act, and the potential for peaking rates, we see a constructive setup for our space over the remainder of 2023," concludes BNP Paribas.
For more news, information, and analysis, visit the Beyond Basic Beta Channel.