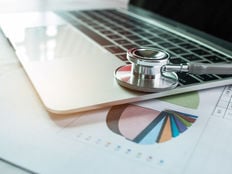 Beyond Basic Beta Channel
The healthcare sector has been struggling this year and those woes are epitomized by managed care providers and ETFs, such as the iShares U.S. Healthcare Providers ETF (IHF A-). In fact, IHF's year-to-date gains recently evaporated and the fund is now saddled with a small year-to-date loss.
IHF is a traditional index fund that targets U.S. equities in the healthcare providers sector. Specifically, the ETF provides exposure to U.S. companies from health insurance, diagnostics, and specialized treatment.
IHF has been dogged this year by speculation that Medicare For All could become a reality if Democrats win the White House in 2020. Many of the most visible Democratic contenders for that party's 2020 presidential nomination are embracing Medicare For All.
"Former Vice President Joe Biden remains one of the leading contenders for the 2020 Democratic nomination and he doesn't favor Medicare For All. In fact, his campaign is doing everything it can to persuade Democratic primary voters that Medicare For All is a bad idea and polling data suggest there's something to that strategy," reports InvestorPlace.
Other IHF Concerns
While markets seem to be saying the chances of Medicare For All becoming a reality are slim, IHF faces other headwinds.
"A July hospital survey from JPMorgan last week has heightened concerns about insurers' spending on patients' medical claims in the third quarter. Anthem Inc., UnitedHealth Group Inc. and Centene Corp. were among the companies that flagged rising costs in the past quarter," according to Bloomberg.
Pressure on UnitedHealth (UNH) and Anthem (ANTM) is problematic for IHF investors because that duo combines for about 37% of the ETF's weight.
Related: Drug Pricing Reforms Keep Pressure on Biotech, Healthcare ETFs
For long-term investors, IHF remains a quality because the long-term outlook for UnitedHealth, assuming Medicare For All doesn't come into play, is bright.
"Cost advantages and network effects generated by the company's size and scope underpin UnitedHealth's wide moat and we think support its ability to serve clients at a lower overall cost than that of rivals," according to a Morningstar note on UNH out earlier this month. "The result is enrollment growth and returns on capital that are nearly unachievable by competing firms."
This article originally appeared on ETFTrends.com.
---
Content continues below advertisement