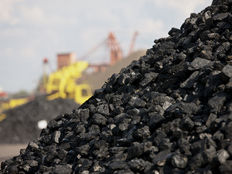 Beyond Basic Beta Channel
Coal equities and the VanEck Vectors Coal ETF (KOL B) are in the midst of potentially telling and certainly sensitive time as alternative energy sources take hold.
KOL tracks the MVIS Global Coal Index. That index "is intended to track the overall performance of companies in the global coal industry which includes coal operation (production, mining, and cokeries), transportation of coal, production of coal mining equipment as well as from storage and trade," according to VanEck.
With 2020 being a vital year for the industry, some analysts are forecasting another tricky environment for coal miners.
"After a Jekyll and Hyde year in 2019, and a decade characterized by China's disruption of the met coal trade, participants can be forgiven for being sick of change," reports Mining.com. "But research firm Wood Mackenzie believes a shift toward consistency and stability is probably too much to ask for in 2020 as China continues to play powerbroker over the seaborne market and spot pricing."
Factors to Consider
The rise of environmental, social and governance (ESG) has investors constantly asking for funds that support the initiatives of environmentally-sound practices, but it could be taking a toll on coal. In world where emissions regulations are getting more stringent, this also puts the coal industry in a bind.
"Under the global microscope, coal suppliers looking to grow will continue to face creeping resistance, grappling with an unfriendly permitting environment, and a climate-induced shift in capital," according to Mining.com. "But opportunities for growth will still exist this year, and we expect the emergence of some potentially game-changing technological developments to keep the market particularly interesting."
Contributing to the fallout in coal prices, a number of factors like a drop in power demand, an abundance of liquefied natural gas and China's shift to become more self-sufficient in coal weighed on the market.
The market is suffering from unbalanced fundamentals. The International Energy Agency revealed that the world has consumed less coal in 2019 than in 2018 largely as coal-fired electricity generation is set to slip by over 250 terawatt-hours or over 2.5%, the biggest drop on record. The industry has also suffered from a large decline in the amount of thermal coal used by U.S. and European power stations where cheaper natural gas alternatives and rising regulations on fossil fuels have caused a shift in coal demand.
This article originally appeared on ETFTrends.com.
---
Content continues below advertisement