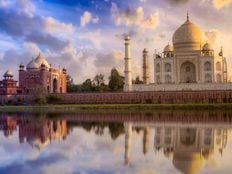 Beyond Basic Beta Channel
While some emerging markets continue frustrating investors, India is delivering, as highlighted by a decent year-to-date showing from the MSCI India Index.
That's not a new phenomenon, as Indian equities have topped broader emerging markets gauges for several years now and while more banks and economists are touting the India investment thesis this year, there's more to the story.
The "more" is mostly positive, but it also signals that need investors looking to access Indian stocks need to be selective when it comes to country-specific exchange traded funds. For those considering this category, the (DGIN ) could be a compelling long-term option.
As its name implies, DGIN is a play on the increasing digitization of India's economy — a notable trend when considering that save for the U.S. and China and a handful of others, few of the world's large populations are as tech-savvy as India.
With India's Stocks, Digital Could Mean Dollars
While smartphones are ubiquitous in the West, that's not the case in some developing economies. That means there's room for growth and that growth could be a factor underpinning the long-term DGIN outlook.
"We're making a bold call for India's smartphone market. We believe it will triple in size over the next decade to $90 billion and account for 15% of global smartphone shipments by 2032, up from just 6% today. That implies that India alone will drive 100% of global smartphone shipment growth over the next decade," observed Erik Woodring, Morgan Stanley's U.S. hardware analyst.
Increasing adoption of smartphones in India is relevant because that theme could buoy other themes, such as e-commerce, online retail and fintech. Specific to online shopping, India is fertile ground for expansion on that front because it has a rising middle class that's comfortable shopping on the internet. Additionally, India lacks the traditional land-based retail infrastructure that many Western consumers are familiar with.
In fact, Morgan Stanley viewed India's increasing domestic consumption as a catalyst for broader smartphone adoption. Over time, that trend could propel DGIN.
"These efforts are expected to bring meaningful demographic change, with income per capita expected to double, and the number of high income households expected to quintuple over the next decade," added Woodring. "Alongside nearly 100% electrification of the country and a government led effort to prioritize digital transformation, we expect strong demand for technology goods to emerge over the next decade. We see these factors as setting the stage for robust smartphone growth in India."
For more news, information, and analysis, visit the Beyond Basic Beta Channel.
---
Content continues below advertisement