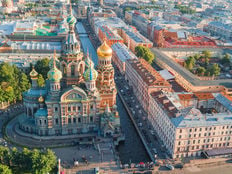 Beyond Basic Beta Channel
The VanEck Vectors Russia ETF (RSX B), the largest Russia ETF trading in the U.S., is higher by almost 31% year-to-date, topping the MSCI Emerging Markets Index by a margin of better than 3-to-1.
That's a stellar performance for Russian stocks considering oil prices have flailed for much of this year. Russia is one of the world's largest crude producers and at 43.3% of the fund's weight, energy is by far RSX's largest sector allocation.
The $1.3 billion RSX follows the MVIS Russia Index, "which includes publicly traded companies that are incorporated in Russia or that are incorporated outside of Russia but has at least 50% of their revenues/related assets in Russia," according to VanEck.
"The dollar-denominated RTS Index is up 34%, busting through its pre-2014 sanctions level as worries about potential new political penalties faded. Russian financial stability, currency strength and cheap valuations have also won over investors, with only Greek stocks beating the Moscow benchmark in 2019," according to Bloomberg.
To Russia For Dividends
Another reason some global investors are embracing Russian equities is dividends. Russia has long been a high-yielding market and that remains the case as highlighted by RSX's dividend yield of 4.08%. That compares to just 2.15% on the MSCI Emerging Markets Index.
While Russian stocks are usually more volatile than broader emerging markets benchmarks, investors are compensated for that risk with low valuations and above-average dividend yields.
"Russian stocks are enjoying a rally eclipsing almost all equity markets worldwide this year, thanks to dividend yields that are more than double those of their emerging-market peers," reports Bloomberg.
Related: Don't Look Past This Rallying Portugal ETF
Many of RSX's largest components are state-controlled energy companies that Moscow leans on to boost payouts. Additionally, Russian banks are showing dividend growth potential of their own. The financial services sector accounts for 11.7% of RSX's weight.
"Russia's state-controlled companies have been under pressure to hand back more profits to the Finance Ministry as dividends in recent years, and stock investors are benefiting as a side effect," reports Bloomberg. "Gas exporter Gazprom PJSC has gained more than 70% since the start of 2019 after it boosted payouts. It plans to distribute half of its net income in dividends in future."
This article originally appeared on ETFTrends.com.
---
Content continues below advertisement