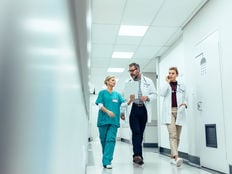 Tactical Allocation Channel
Down about 3% this year, the iShares U.S. Healthcare Providers ETF (IHF B+) is a laggard among healthcare ETFs and that's saying something because the sector is one of the worst performers in the S&P 500.
IHF is a traditional index fund that targets U.S. equities in the healthcare providers sector. Specifically, the ETF provides exposure to U.S. companies from health insurance, diagnostics, and specialized treatment.
IHF has been dogged this year by speculation that Medicare For All could become a reality if Democrats win the White House in 2020. Many of the most visible Democratic contenders for that party's 2020 presidential nomination are embracing Medicare For All.
In other words, politics are plaguing IHF and its holdings, namely Dow component *UnitedHealth (UNH), a stock that accounts for 22.69% of IHF's weight.
Surprising Highs
Early Thursday, IHF was trading surprising higher after an analyst downgraded UnitedHealth. What makes that upside in the ETF all the more surprising is that the analyst cut ratings on several of the ETF's other components, too.
"Jefferies analyst David Windley is dampening any expectations for a turnaround. In a note out Thursday morning, Windley downgraded managed-care giant UnitedHealth Group to Hold from Buy, and cut-price targets for six other stocks, including Anthem (ANTM), Cigna (CI), and Humana (HUM)," reports Josh Nathan-Kazis for Barron's.
Here's the problem for IHF: UnitedHealth, Anthem, Cigna and Humana combine for over 40% of the fund's roster.
Previously, investors embraced healthcare stocks for the sector's growth and defensive characteristics, providing investors with yields and valuations that are less stretched than other yield-producing stocks like utilities. However, the managed care group is betraying that defensive reputation as investors sell IHF components amid intensifying political conjecture and concerns that hospital costs are rising, a scenario that also pressures managed care firms.
Related: Drug Pricing Reforms Keep Pressure on Biotech, Healthcare ETFs
When it comes to the 2020 presidential election, there are several moving parts regarding IHF's fate.
"Windley said the political overhang on the stocks could lift at three possible moments over the next two years," according to Barron's. "He recommended buying managed-care stocks if Joe Biden wins the Democratic nomination in July 2020, and to wait if he doesn't. If President Trump wins the November 2020 presidential election, Windley says to buy the managed-care stocks, but to wait if he loses. And if Warren is inaugurated in January 2021, buy managed-care stocks at the end of 2021 if she goes after the industry early in her term, otherwise, wait."
This article originally appeared on ETFTrends.com
---
Content continues below advertisement