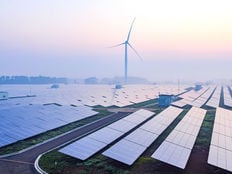 Tactical Allocation Channel
XLE targets the Energy Select Sector Index and "seeks to provide precise exposure to companies in the oil, gas and consumable fuel, energy equipment and services industries," according to State Street.
Translation: XLE allocates a combined 43.46% of its weight to shares of Exxon and Chevron, making Friday a potentially vital day for the near-term health of the bellwether energy ETF.
"Chevron and Exxon Mobil are gearing up to report about their recent quarters before the bell Friday, joining the more than two-thirds of Dow components that have already posted results," reports CNBC. "But, the two are not equal, according to Craig Johnson, chief market technician at Piper Jaffray."
Diminishing Volumes
Analysts also expect the volume of U.S. crude oil in storage should diminish in the weeks ahead before reversing course at the end of peak driving season, along with the start of the seasonal refinery maintenance period.
"If I look at the differentiation between Exxon Mobil and Chevron, Exxon has been in a series of lower lows and lower highs for quite some time. Chevron, though, looks like it's in a high-level trading range after the stock moved from $70 to $130 and it's just consolidating," said Johnson in an interview with CNBC.
The markets have been roiled by the U.S.-China trade war news, which looks like it could extend into extra innings. Furthermore, the bond markets were flashing recession signals from an inverted yield curve. However, many energy stocks have baked in these scenarios and currently look attractive on valuation. If one or both of the aforementioned earnings reports are strong, that could be a big help to a sector that has again disappointed investors this year.
"That's an understatement that the energy sector has been a tough place to invest in but, integrated, the big companies have been a safe haven within that sector," Michael Binger, president of Gradient Investments, said in an interview with CNBC.
This article originally appeared on ETFTrends.com.
---
Content continues below advertisement