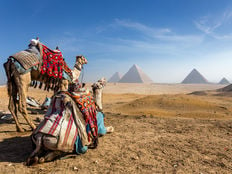 Tactical Allocation Channel
The VanEck Vectors Egypt Index ETF (EGPT C), the lone US-listed ETF dedicated to Egyptian equities, is higher by nearly 20% year-to-date, making it one of the best-performing single-country ETFs tracking a developing economy.
EGPT turned nine years old last month. The ETF follows the MVIS Egypt Index (MVEGPTTR), "which includes securities of companies that are incorporated in Egypt or that are incorporated outside Egypt but have at least 50% of their revenues/related assets in Egypt," according to VanEck.
Last week, Fitch Ratings upgraded its rating on Egypt to B+ with a stable outlook.
"Egypt has made further progress in implementing economic and fiscal reforms, which are driving improved macroeconomic stability, fiscal consolidation and stronger external finances," said Fitch Ratings in a recent note. "The authorities will complete the three-year IMF Extended Fund Facility (EFF) in 2019. It seems likely these reforms will continue to generate better economic outcomes beyond the IMF agreement. General government debt/GDP is on a downward path, underpinned by structural improvements to the budget and the emergence of primary budget surpluses."
Inside EGPT ETF
EGPT holds 27 stocks, 30.3% of which are financial services names. Real estate and materials stocks combine for 35.10% of the ETF's roster.
Another macro catalyst for Egypt's economy, one of the largest in North Africa, is a narrowing budget deficit.
"We expect the budget sector deficit to narrow to around 8.6% of GDP in FY19 (fiscal year ending June 2019), with a primary surplus of 1.6% of GDP, close to the government target of 2% of GDP," according to Fitch. "In 1HFY19 (July-December 2018) spending on subsidies and social benefits was flat in nominal terms. We expect subsidies and social benefits spending to fall by 1.1% of GDP in FY19. Interest spending continued to limit consolidation, but was in line with budgeted amounts. Overall, revenue grew by 28% yoy and expenditure by 17% yoy."
Central bank Governor Tarek Amer said recently the Egyptian pound currency would experience greater volatility after the bank ended a policy that guaranteed foreign investors could repatriate dollars when they sold Egyptian securities. Investors will have to deal with the process through the interbank market.
"In Fitch's view, there is political commitment for further fiscal consolidation and there have been significant structural improvements in the budget that are likely to persist," said the ratings agency. "In FY20 we expect wages and compensation to fall below 5% of GDP, down from an average of 8% in FY15-FY16, underpinned by the civil service law."
For more information on Egypt, visit our Egypt category.
---
Content continues below advertisement