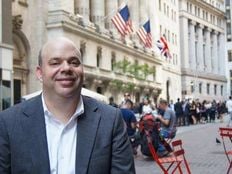 Beyond Basic Beta Channel
While index ETFs are considered passive, they are not static. It pays to understand when a group of stocks are added or removed as part of a smart beta index ETF reconstitution. 
For example, the VanEck Morningstar Wide Moat ETF (MOAT B+) is an index-based fund that seeks to provide exposure to high-quality, value large-cap stocks. The quality aspect stems from owning shares of companies that Morningstar believes possess sustainable competitive advantages, or "moats." From this large-cap universe, the index owns stocks of companies trading at attractive prices relative to Morningstar's estimate of fair value.  
High-quality ETFs have been popular in 2023, as advisors and investors try to offset their concerns about the Federal Reserve's next moves with confidence that the stock market can still climb higher.  
What's Changed About the MOATs ETF 
The large-cap index has a staggered rebalance in which it is divided into two subportfolios, each with 40 stocks. One subportfolio reconstitutes in December and June; the other in March and September. MOAT underwent its latest rebalance at the end of last week. 
There were 10 changes made to the portfolio, while 30 other constituents of the subportfolio remain part of the ETF. Mega-cap stocks like Alphabet, Amazon.com, and Microsoft have persisted, but Meta Platforms was among the stocks to be dropped due to an unattractive valuation. Others dropped for valuation included Adobe, Constellation Brands, Domino's Pizza, and WorkDay. 
The 10 new constituents included Campbell Soup, Charles Schwab, Corteva, Honeywell, and Nike. They all previously failed the Morningstar valuation screen, but this time were deemed attractive to Morningstar. 
MOAT was up 21% year- o date, outperforming the 17% gain for the S&P 500 Index. Over three years, the ETF was up 14%, ahead of the 11% for the "500." 
---
Content continues below advertisement
Smaller Companies Can Be High Quality Too 
The VanEck Morningstar SMID Moat ETF (SMOT B) is the younger sibling of MOAT. It also tracks a Morningstar quality and value index based on moat and fair value of smaller companies. SMOT added Charles River Labs, DoorDash, Harley Davidson, Live Nation Entertainment, and Veeva Systems in its most recent reconstitution. There were 27 stocks added. Meanwhile, Group 1 Automotive, Ingersoll Rand, ResMed, Splunk, and Stericycle were among those removed. SMOT was launched in October 2022 and does not have a long track record to compare against market-cap-weighted indexes. 
VanEck's Coulter Regal will be speaking twice during VettaFi's Equity Symposium on September 21 about the above ETFs. He will be part of the kickoff session at 11:00 a.m. on large-caps. Then he will be back to talk small- and mid-cap stocks at 12:25 p.m. ET. Tom Lydon will be moderating both discussions, while I host sessions in between on active management and dividends. But I plan to listen in to understand what makes VanEck's equity ETFs different than traditional index-based ETFs and how they can fit into a broader portfolio. There's still time to register to join us.   
For more news, information, and analysis, visit the Beyond Basic Beta Channel.