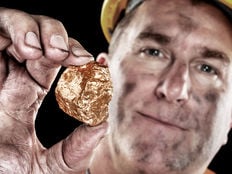 Beyond Basic Beta Channel
This year, investors have embraced gold and the related ETFs due to elevated market uncertainty stemming from trade wars and recession speculation, among other factors. That uncertainty has boosted the case for funds, such as VanEck Vectors Gold Miners ETF (GDX B+).
GDX is comprised of global gold miners, with a notable tilt toward Canadian and U.S. mining companies. Stock fundamentals like cost deflation across the mining industry, share valuations below the long-term average and rising M&A are all supportive of the miner's space as well, but those fundamentals could be glossed over if the dollar strengthens. There are indications that the current gold bull market could last awhile.
While GDX lost nearly 4% as riskier assets came back into favor, there are reasons to believe gold can deliver more upside this year.
"Trade tensions have become trade wars and trade wars are threatening to become currency wars," said VanEck in a recent note. "Gold moved to a fresh six-year high of $1,555 per ounce on August 26 as markets reacted to retaliatory threats and actions between the U.S. and China. It looks as if the established superpower and the emerging superpower have begun an economic war for global supremacy. The uncertainty is creating a drag on commerce at a time in the cycle when it might do the most damage to the global economy. At the same time, central banks across the globe are cutting rates in an attempt to offset recessionary forces."
Gold Shines Brightly
Gold ETFs are pushing to the upside amid increased expectations of a U.S. rate cut, even as some investors locked in profits from bullion's recent rally. Gold is believed by many investors to be inversely correlated with interest rates. Rising interest rates make bonds and other fixed-income investments more attractive so that the money will flow into higher-yielding investments, such as bonds and money market funds, and out of gold, which offers no yield at all during times of higher interest rates, and back into gold ETFs.
Importantly, global central banks remain dedicated buyers of bullion.
"Higher gold prices have not deterred central banks, as they continued buying in July. They are currently on a pace to exceed the 2018 volumes, which were the second strongest on record. Top buyers in 2019 are Russia, Poland, China, Turkey, and India. Trade wars and sanctions are giving emerging countries added incentive to add more gold to their foreign exchange reserve," according to VanEck.
Related: Big Gold Miners ETF Sees Unusual Options Activity
Of course, declining interest rates buoy the case for gold ETFs and miners funds, such as GDX.
"One of the key drivers of the current gold market is falling real interest rates. With more Fed cuts expected this year, the duration of the current bull market is becoming similar to past secular bull markets. It remains to be seen whether performance will match the 2001 – 2008 market, when the key driver was U.S. dollar weakness," according to VanEck.
This article originally appeared on ETFTrends.com.
---
Content continues below advertisement