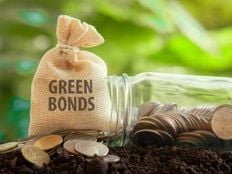 Beyond Basic Beta Channel
The (GRNB B) is roughly two months past its fifth birthday. Over that time, the green bonds market has evolved considerably. However, that evolution hasn't been bump-free—nor will it continue to be. A broader approach to this still-nascent corner of fixed income market may be advisable.
Home to 322 green bonds, GRNB is an ETF offering breadth in the green debt arena. The fund, which follows the S&P Green Bond U.S. Dollar Select Index, is pertinent to tactical fixed income investors. That's because while green debt issuance slowed last year, its overall trajectory is impressive.
"From their introduction in 2007, global green bond issuance rose rapidly to $200 billion in 2016 and then to $1 trillion in 2021," noted FactSet. "The origins of the market were sovereign debt, so growth to about 40% of green debt issuance being corporate in 2021 was seen as a good trend of market acceptance of this security type. Additionally, several mutual funds and ETFs focused on green bonds allow retail investors to participate and add greater breadth to the market."
GRNB features a mix of corporate and sovereign green bonds. From a credit quality perspective, that mixture is compelling, because 81.52% of GRNB holdings are investment-grade. A significant portion of those bonds reside somewhere in "A" territory.
Challenges Remain For Green Bonds
Still, like many ESG ETFs, GRNB faces some issues that, once conquered, could broaden the audience of adopters for the fund. Attendees at the recent Beyond the ESG Label: Green, Social and Sustainability Linked Bonds conference discussed some of the important topics facing the green bond market.
Those include tracking the use of capital raised via green debt sales, and whether issuers useproceeds as intended. Another subject — a familiar one to ESG — is the lack of uniformity surrounding green bond ratings and scoring. That leads into assessing just how "green" some green bonds really are.
"A third issue is that existing bonds have not always been provided adequate protection from non-compliance of bond terms. Green bonds often are certified by a third party such as the Climate Bond Standards Board as being truly green. Part of the problem has been inconsistent certification or assurance by third parties that proceeds were indeed being used for green projects," added FactSet.
Bottom line: Green bonds are like any other newer investment concept in that seasoning is necessary. But as the market matures, GRNB may become even more attractive to bond investors.
For more news, information, and analysis, visit the Beyond Basic Beta Channel.
---
Content continues below advertisement