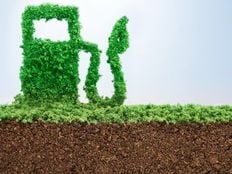 Beyond Basic Beta Channel
Consumers and investors are highly familiar with traditional fossil fuels such as coal, natural gas, oil, and unleaded gasoline to power vehicles. Thanks to green fuels, a new sheriff is emerging in Fuel Town and it could be one with interesting investment implications.
Market participants can effective access that theme thanks to exchange traded funds such as the (RNEW B-). RNEW, which follows the Indxx US Green Infrastructure — MCAP Weighted Index, debuted last October. That could be a sign RNEW is appropriately timed for an evolving fuel market.
A benefit of RNEW is that its investment objective is approachable for a broad swath investors. In simple terms, green fuels are fuels that are environmentally friendly alternatives to the aforementioned fossil fuels. Examples of green fuels are biodiesel, ethanol, and hydrogen.
"The adoption of green fuels has been increasing in recent years due to growing concerns over the environmental impact of traditional fossil fuels. According to a recent IEA report from 2021, the global green fuels market is expected to grow at a compound annual growth rate (CAGR) of over 9% between 2021 and 2026, driven by rising demand for clean energy and supportive government policies," noted Nick Frasse, Van Eck associate product manager.
Investors should note that as is the case with some other investable sustainability concepts, green fuels are still in their infancy. As such, related ETFs may not have extensive rosters due to a small number of relevant publicly traded companies.
On that note, RNEW is home to 48 stocks, which is a solid number for a thematic ETF focusing on a young industry. Some of the ETF's member firms are familiar names, including Tesla (NASDAQ: TSLA) and First Solar (NASDAQ: FSLR), which combine for 12% of the roster.
As Frasse pointed out, Bloom Energy (NYSE: BE), which is a RNEW holding, is one of the green fuels names to watch because its Bloom Energy Server is among the most reliable fuel cell products on the market today.
"One of the key advantages of the Bloom Energy Server is its high efficiency. According to the company, the Bloom Energy Server can deliver up to 50% more energy than traditional power sources while emitting significantly less carbon dioxide and other harmful pollutants. Additionally, the Bloom Energy Server is highly scalable and can be customized to meet the specific energy needs of a particular client," concluded Frasse.
For more news, information, and analysis, visit the Beyond Basic Beta Channel.