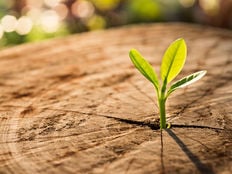 Beyond Basic Beta Channel
Investors looking to apply sustainability and virtue to their fixed-income investments have compelling options in the form of green bonds and the VanEck Vectors Green Bond ETF (GRNB B), the first fixed income ETF offering exposure to green bonds.
Green bonds are debt securities issued to finance projects that promote climate change mitigation or an adaptation or other environmental sustainability purposes. The new breed of green bonds gained momentum in the global market ever since the European Investment Bank issued the first green bond in 2007.
GRNB tracks the S&P Green Bond Select Index, which is "comprised of labeled green bonds that are issued to finance environmentally friendly projects, and includes bonds issued by the supranational, government, and corporate issuers globally in multiple currencies," according to VanEck.
Assets under management with sustainable directives are rising and the green bond market is poised to participate in that trend.
"According to the U.S. Forum for Sustainable and Responsible Investment, there are already $12 trillion of assets managed under a responsible investment mandate, an increase of 38% from two years ago," according to VanEck Research. "Globally, that number is over $30 trillion. Although growing, the green bond market's $500 billion size is still minuscule, and calls from climate leaders to reach $1 trillion of issuance per year should not pose a challenge in this context."
Green Bond Perks
GRNB holds 112 bonds with an effective duration of 4.58 years. In addition to companies, governments are major issues of green bonds, giving GRNB high credit quality and explaining its low yield. About 54% of the fund's holdings are rated AAA, AA or A. Importantly, the green bond market is growing and issuance is expected to swell this year.
"Green bond issuance is expected to hit $250 billion this year," said VanEck. "We believe many of the same drivers of growth are expected to continue. In particular, we expect sovereign and financials to lead the way, and hope that the spate of new U.S. corporate entrants to the market are the beginning of a larger trend."
Related: Green Bonds Are Getting Hot on Wall Street
That's impressive when considering the green bond market itself is just 12 years old and the first sovereign issue hit the market just three years ago.
"Increased issuance by sovereign and municipal issuers, as well as a potential increase in securitized green bond issuance, are helping to bring added diversity to the green bond market, as well as increased liquidity," said VanEck. "Further, issuers are exploring innovative financing structures such as guarantees and other credit enhancement mechanisms that may open up debt capital markets for issuers who otherwise may not have access or may not be able to afford green bond issuance."
This article originally appeared on ETFTrends.com
---
Content continues below advertisement