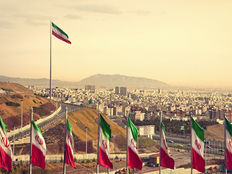 Beyond Basic Beta Channel
History indicates there are good reasons for those moves.
XAR seeks to provide investment results that correspond generally to the total return performance of the S&P Aerospace & Defense Select Industry Index, which represents the aerospace and defense segment of the S&P Total Market Index.
ITA seeks to track the investment results of the Dow Jones U.S. Select Aerospace & Defense Index composed of U.S. equities in the aerospace and defense sector. Aerospace companies in the index include manufacturers, assemblers and distributors of aircraft and aircraft parts.
"Aerospace and defense stocks typically outperform the S&P 500 in the six months after Middle East crisis events," according to CNBC. "Defense stocks have climbed and the broader market has sold off following last week's killing of Iranian military leader Qasem Soleimani."
Aerospace Angles
The strike that killed Soleimani did require boots on the ground and highlights the next generation of warfare, a theme that should benefit the likes of XAR and ITA going forward.
Hypersonic weapons that can travel at an extremely high rate of speed could be the next frontier in technology that could fuel defense exchange-traded funds (ETFs). The technology is already being tested by the Russian Navy, which is the first country to use hypersonic missiles.
That's a longer-ranging theme, but over the near-term, ITA and XAR are poised for upside.
"CNBC used hedge fund analytics tool Kensho to analyze market returns after major events in the Middle East, dating back to the start of the 1990 Gulf War. The analysis found that defense stocks earned double the return of the S&P 500 in the six months after a crisis event," according to CNBC.
This article originally appeared on ETFTrends.com.
---
Content continues below advertisement