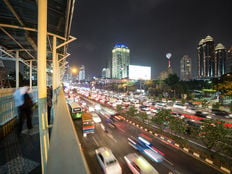 Beyond Basic Beta Channel
Emerging markets assets have been drubbed this month and bonds have not been immune from that gloomy scenario as highlighted by the VanEck Vectors Emerging Markets Local Currency Bond ETF (EMLC A+) being lower by 5% month-to-date.
EMLC seeks to replicate the price and yield performance of the J.P. Morgan GBI-EM Global Core Index. The index is comprised of bonds issued by emerging market governments and denominated in the local currency of the issuer. While the asset class is currently struggling, there's still a case for emerging markets debt denominated in local currencies.
Declining interest rates in the U.S. and expectations that the Federal Reserve will continue lowering rates to prop up the economy could be a catalyst for EMLC. Emerging markets bonds, particularly those denominated in local currencies, are often levered to Fed action because lower U.S. rates can depress the dollar, thereby bolstering emerging markets currencies and assets denominated in those currencies.
Investor Confidence In EMLC
"Although emerging markets local currency valuations remain far below the levels of early 2018 and are very beaten down relative to historical levels, the change in rate expectations has provided support to local currencies, while the attractive yields earned on the asset class have provided investors with a fairly steady source of return," said VanEck in a recent note. "On the other hand, U.S. equities, high yield bonds, and emerging markets equities experienced larger drawdowns and elevated volatility over the period, resulting in both lower risk-adjusted and absolute returns."
The $5.1 billion EMLC holds nearly 300 bonds and with a 30-day SEC yield of 6.28%, the fund is alluring for income investors in a low-yield climate. Some of EMLC's largest country weights, including Brazil and Thailand, have recently lowered interest rates and it is unlikely that higher rates will be seen in enough emerging markets to make bonds there unappealing.
With investors confidence returning, so is a penchant for yield–something that can also be had via emerging market bonds via EMLC. Bond markets overseas could provide more competitive yields when compares to those of the U.S. where credit risk in a late market cycle could pose a concern.
Related: VanEck Bond ETF 'EMLC' Could Benefit From Fed Rate Cut
"The primary risk to emerging markets local currency bonds is a slowdown in global growth, and the unexpected increase in trade tensions between the U.S. and China should be closely monitored. Growth concerns have in fact been one factor in negative returns for emerging markets local debt in August," according to VanEck.
While slowing global economic growth is a real concern, there are reasons EMLC could firm up going forward, including " prolonged low rates across developed markets, emerging markets monetary policy that has turned dovish and historically low valuations of emerging market currencies," said VanEck. "With their attractive yield potential, diversification benefits and recent resiliency amid these changing market conditions, we believe emerging markets local currency bonds may be an attractive addition to fixed income portfolios."
This article originally appeared on ETFTrends.com.
---
Content continues below advertisement