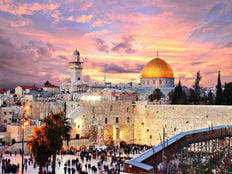 Beyond Basic Beta Channel
The VanEck Vectors Israel ETF (ISRA C+), one of the original ETFs to offer exposure to Israeli equities, is up nearly 17% year-to-date, adding to its recent history of being one of the better ex-US single-country developed markets ETFs.
ISRA tracks the BlueStar Israel Global Index (BIGI), "which is comprised of equity securities, which may include depositary receipts, of publicly traded companies that are generally considered by the Index Provider to be Israeli companies," according to VanEck.
Buoyed by robust technological innovation, Israel is home to a surging economy and favorable demographic traits.
"Despite a small population, Israel has become known for its impressive economic successes in the global marketplace. Israel is also home to a young, educated workforce with an innovative entrepreneurial spirit that may contribute to the long-term economic success of the 'Start-Up Nation,'" according to VanEck.
The $53.9 million ISRA, which debuted over six years ago, allocates almost 44% of its weight to technology stocks, more than double its second-largest sector weight.
Inside ISRA And Israel
At least 16 global financial service firms like Visa and MasterCard have opened research and development centers, and banks like Barclays and JP Morgan have established innovation incubators in Israel. Financial services is ISRA is second-largest sector allocation at about 20%.
"Israel is widely known as a leader in three key sectors of the global economy—technology, consumer services, and healthcare," said VanEck. "One of the underlying characteristics of Israeli companies is that they are deeply connected to the day-to-day lives of consumers around the world, and are essential partners with large multinational companies."
The targeted focus on Israel's innovators may be a way for investors to bolster a diversified global portfolio that may be severely underweight this segment of the international markets. Israel was promoted to developed market status in 2010 but many portfolios underweight the country relative to growth and innovation projections.
Related: Israel ETF Celebrates Fifth Anniversary
Importantly, ISRA's index offers a more complete view of Israel's current and future economic growth and innovation than do legacy Israel benchmarks.
"Bluestar uses both quantitative and qualitative measures to determine if a company meets the requirements to be considered 'Israeli' and thus included in the index," according to VanEck. "This methodology provides investors access to Israeli companies in a complete and pure construction."
This article originally appeared on ETFTrends.com
---
Content continues below advertisement