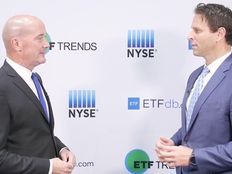 Tactical Allocation Channel
Investors are faced with a lower-for-longer yield environment, but many can still find attractive income-generating opportunities through targeted ETF strategies.
"Income in this environment may appear to be challenging," Kol Estreicher, Regional Vice President, ETF Investment Specialist, VanEck, said at the 2019 Charles Schwab IMPACT conference.
"Investors have to be feeling the effects of reinvestment risk," he added.
However, Estreicher argued that given the benign economic environment and accommodative Federal Reserve policy, investors have more leeway to branch out.
"We think investors can look to incorporate more credit or duration risk in the portfolio, so they don't have to be too conservative and risk leaving money on the table," Estreicher added.
For example, Estreicher pointed to areas like high-yield corporates, municipal bonds and emerging market debt. Investors can also tap into these areas through targeted ETF strategies, such as the VanEck Fallen Angel High Yield Bond ETF (ANGL B), which tries to reflect the performance of the ICE BofAML US Fallen Angel High Yield Index. ANGL was the first ETF to provide exposure to "fallen angel" bonds, speculative-grade debt securities that were initially issued with an investment-grade rating but were later downgraded to junk territory. Fallen angel issuers tend to be larger and more established than many other junk bond issuers.
Since these fallen angels were formerly on the cusp of investment-grade status, the group of junk bonds typically has a higher average credit quality than many other speculative-grade debt-related funds. The higher average quality also helped absorb some of the market volatility we experienced last year.
Municipal bonds are often viewed as low-risk investments and some market observers believe risk in the muni market is currently benign, potentially setting up opportunities with ETFs, such as the broad VanEck Vectors Municipal Allocation ETF (MAAX). Investors can also gain more focused exposure to munis through ETFs like the VanEck Vectors High-Yield Municipal ETF (HYD A-), VanEck Vectors AMT-Free Long Municipal Index ETF (MLN A-), VanEck Vectors AMT-Free Intermediate Municipal Index ETF (CBOE: ITM) and the VanEck Vectors Short High-Yield Municipal Index ETF (SHYD C+).
Lastly, bond investors may look to something like VanEck Vectors Emerging Markets Local Currency Bond ETF (EMLC A-), VanEck Vectors Emerging Markets High Yield Bond ETF (HYEM A-), VanEck Vectors EM Investment Grade + BB Rated USD Sovereign Bond ETF (IGEM C+) and VanEck Vectors Emerging Markets Aggregate Bond ETF (EMAG B-) to diversify their fixed-income portfolio with overseas opportunities and potentially higher yield generation.
Watch the interview between ETFdb Co-CEO Tom Lydon and Kol Estreicher:
---
Content continues below advertisement