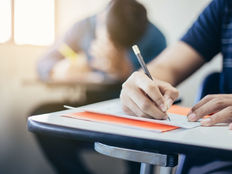 Tactical Allocation Channel
However, the IPO ETF now labors almost 10% below its 52-week high. The good news is the fund is higher by almost 9% over the past month, but it currently faces some technical tests.
"But while it's still about 9% below its months-old closing high (improved from its peak-to-trough decline of 17.6%), IPO's pullback has been anything but disorderly," according to Schaeffer's Investment Research. "Twice in October, the shares successfully tested support at the $27.50 level, which previously played the role of a technical floor back in early February. This area is also now home to a 50% retracement of IPO's rally from its Dec. 24 closing low to its July 26 high close, further boosting the bullish significance of the catch-and-hold here."
IPO tracks the rules-based Renaissance IPO Index, which adds sizeable new companies on a fast entry basis and the rest upon scheduled quarterly reviews. Companies that have been public for two years are removed at the next quarterly review.
Additionally, the Renaissance IPO ETF is the only ETF focusing exclusively on the U.S. IPO Market. Renaissance Capital believes that IPO reinvents IPO investing by providing access to the U.S. IPO Market through an ETF, without investors having to buy IPOs individually.
Inside IPO
Ridesharing IPOs like Lyft and Uber may have sputtered off the starting line, but some IPOs like Slack are getting rave reviews from market analysts keeping an eye out on the latest offerings from Silicon Valley. Investors who haven't warmed up to allocating capital into the IPO space can dip their toes in the water with exchange-traded funds (ETFs).
If the IPO ETF can get past some near-term technical hurdles, upside from there could be significant.
"The next immediate challenge lies in the form of the 200-day moving average, at $30.42. IPO on Friday made its first intraday move above this closely watched trendline since it was first breached to the downside on Sept. 24 — but couldn't hold its footing, and subsequently closed the session dead even with this major technical level (as in, within a few thousandths of a point)," according to Schaeffer's. "Rather than serving as steady support or resistance, this moving average more often represents a "line in the sand" between periods of bullish and bearish price action for IPO, with the ETF tending to make fast breaks both above and below this psychological barrier when it's been encountered in the recent past."
This article originally appeared on ETFTrends.com.
---
Content continues below advertisement