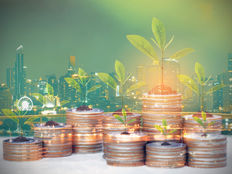 Tactical Allocation Channel
While still a small slice of the massive fixed income market, green bonds are growing and that could prove beneficial to the VanEck Vectors Green Bond ETF (GRNB), the first fixed income ETF offering exposure to green bonds.
Green bonds are debt securities issued to finance projects that promote climate change mitigation or an adaptation or other environmental sustainability purposes. The new breed of green bonds gained momentum in the global market ever since the European Investment Bank issued the first green bond in 2007.
GRNB tracks the S&P Green Bond Select Index, which is "comprised of labeled green bonds that are issued to finance environmentally friendly projects, and includes bonds issued by the supranational, government, and corporate issuers globally in multiple currencies," according to VanEck.
Data confirm the market for green bonds is booming.
"The Climate Bonds Initiative (CBI) published an update yesterday detailing how green bond and loan issuance for 2019 has just passed $200bn, marking an all-time high for the market and setting the stage for annual issuance reaching between $230 and $250bn by year-end," reports Green Business.
Getting Some Green With GRNB
GRNB holds 115 bonds with an effective duration of 4.67 years. In addition to companies, governments are major issues of green bonds, giving GRNB high credit quality and explaining its low yield. About 54% of the fund's holdings are rated AAA, AA or A. Even with those high credit ratings, GRNB has a decent 30-day SEC yield of 2.53%.
"According to the CBI's ranking, the US market leads the way to date in 2019 followed by France, China, Germany, Netherlands, Sweden, Spain, Japan, Italy, and Canada," according to Green Business.
While green bond issuance in 2018 was only modestly higher than 2017's issuance, new green bond issues could rise to $250 billion this year, according to VanEck data. That number could be significantly higher in 2020.
"The CBI is forecasting the rapid growth seen across the market will continue into 2020, with projections suggesting issuances should reach between $350 and $400bn next year," notes Green Business.
This article originally appeared on ETFTrends.com
---
Content continues below advertisement