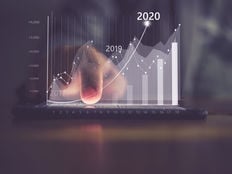 Beyond Basic Beta Channel
As the year comes to an end, successes and trends that took over can be found in a lot of areas. ETF Trends spoke with Brandon Rakszawski, VanEck Director of ETF Product Development, about top performers and trends from the year.
The VanEck Vectors Gold Miners ETF (GDX B+) and the VanEck Vectors Junior Gold Miners ETF (GDXJ B+) have both proven to be quite rewarding for investors throughout the year thanks to increasing gold prices.
Speaking to various trends towards the end of the year that proved to be interesting, Rakszawski noted tax-loss harvesting. In a year without a whole lot of opportunities to realize losses in a lot of the different asset classes, given how many of the sectors and regions are all up for the year, there's been a focus on capital gains avoidance, as opposed to tax-loss harvesting.
Concentrating On MLPs
Master limited partnerships (MLPs) have also proven to be one are in the market presenting opportunity because there are so many assets concentrated in the MLP space. Speaking to this further, Rakszawski pointed out the VanEck Vectors High Income MLP ETF (NYSE Arca: YMLP), which has recently been renamed the VanEck Vectors Energy Income ETF (EINC B-). The change stems from the 3-5 years worth of changes in the MLP market, structurally.
"We changed the name of our ETF, the ticker, the underlying benchmark, the tax status of the fund, as well as the expense ratio," Rakszawski. We cut the expense ratio almost in half, which is definitely appealing to investors. So now it's focused on energy infrastructure, including MLP companies."
Based on these changes, EINC now qualifies as a regulated investment company under IRS tax codes. This helps it avoid what many of the MLP ETFs are prone to – namely double taxation structure, which is difficult when trying to understand the MLP space.
With EINC, there's a vehicle that offers really comprehensive exposure to the energy infrastructure segment of the market. Performance on a lot of those products has been flat to slightly negative through a year-to-date period. This makes it one area where there's an investment opportunity for tax-loss harvesting.
This article originally appeared on ETFTrends.com.
---
Content continues below advertisement