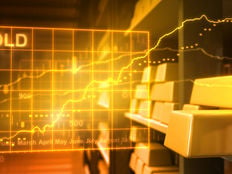 Beyond Basic Beta Channel
While speaking on the subject of long-term trends for investors and potentials, Brandon Rakszawski, Product Manager for VanEck, told ETF Trends investors are looking to gold ETFs. This may not apply to the philosophy of taking on at least some risk in an effort to branch out, but there is some applicable data to note, which in turn could favor those invested in the VanEck Vectors Gold Miners ETF (GDX B+).
GDX seeks to replicate the price and yield performance of the NYSE Arca Gold Miners Index (GDMNTR), which is intended to track the overall performance of companies involved in the gold mining industry
"The flip side of lower rates, and lower rates globally, and even negative rates globally is the impact on gold," Rakszawski said, with some thoughts on how things have shifted for this sector of the market.
Earlier in the year, gold broke out of its six-year resistance level around $1,365 [per ounce], when the Fed changed policy. Currently, VanEck's has a target for gold to trade between $1,400 and $1,500 through the year-end.
A blog article from June, by Joe Foster, Portfolio Manager and Strategist for VanEck, further highlights what is being brought up. Monday's year-low market drop may have allowed many to recognize the current spike gold has had, but, as Foster explains in his post, changes driven by the Fed have only stimulated gold's potential.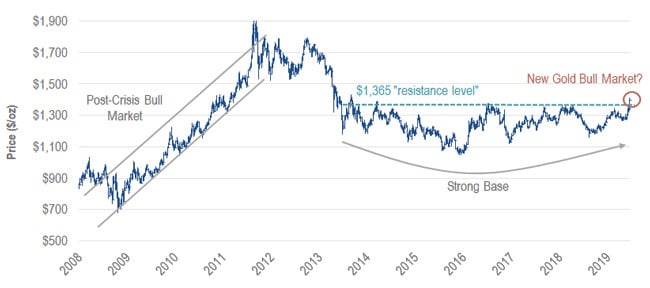 As Rakszawski put it, "When rates are negative, that's going to be good for gold." That logic has managed to easily apply based on activity already seen this week.
It even goes further, understandably, as the slowing down of the global economy is certainly taking place because of current trade wars between the US and China. Of course, as this keeps up, things will continue to be good for gold.
"If gold holds above the $1,400/oz trading level over the course of this week, we believe there is a very good chance that this could mark the beginning of a new gold bull market," Foster wrote in his blog article. "In any case, it appears gold has entered a higher trading range."
For more market news and updates, visit ETFdb.com.
---
Content continues below advertisement