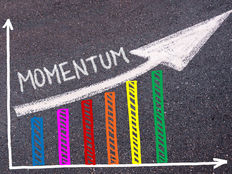 Beyond Basic Beta Channel
Momentum stocks and the related ETFs have recently been under scrutiny as concerns about the integrity of the bull market have emerged and some investors have rotated away from growth stocks into value fare.
However, there's still a compelling case for momentum ETFs, such as the Invesco S&P 500 Momentum Portfolio (SPMO B+). SPMO the S&P 500 Momentum Index, which is comprised of 100 high momentum S&P 500 components.
"The Index tracks the performance of stocks in the S&P 500 Index that have a high "momentum score". The Fund and Index are reconstituted and rebalanced twice a year on the third Fridays of March and September. Constituents are weighted by their market capitalization and their momentum score," according to Invesco.
Examining Momentum Strategy
Most investors have heard the term momentum when applied to stocks. The momentum strategy is based on a simple idea, the theory about momentum states that stocks which have performed well in the past, should continue to perform well, while on the other hand, stocks which have performed poorly in the past, should continue to perform poorly.
High momentum stocks are those that are capable of rising very fast in a short period of time, which makes them very attractive to potential buyers. However, in many cases, these stocks can also crash unexpectedly and carry significant risks as a result. When handled properly, however, momentum trading can be a rewarding method of profiting from the stock market.
A key element of momentum stocks' performance is positive analyst revisions.
"This is because, in the past, many companies released important information—such as advance warnings of earnings results—to selected institutional investors and analysts during meetings and conference calls at which the general public was excluded. Therefore, analysts' change in views based on such knowledge was considered a key indicator of a stock's fundamentals and future performance," reports Evie Liu for Barron's.
Related: Sustainability And Growth With This Bond ETF
As for SPMO, that momentum ETF is up 17% this year and has a history of outperforming the S&P 500.
"Since its introduction in 2015, the total return in the Invesco S&P 500 Momentum ETF has outrun the S&P 500 by an average of 1.38 percentage points a year," according to Barron's.
This article originally appeared on ETFTrends.com
---
Content continues below advertisement