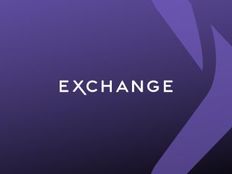 Beyond Basic Beta Channel
VanEck's senior product manager Bill Sokol spoke with NYSE's Judy Shaw "about finding attractive income without taking excessive risk."
"That's something that income investors are always grappling with," Sokol said at Exchange 2023.
Speaking with Shaw for ETF Leaders, powered by the New York Stock Exchange, Sokol said that after the Federal Reserve started raising interest rates last year, he thinks some "opportunities have emerged." In particular, he likes collateralized loan obligations. Collateralized loan obligations, or CLOs, are securitized pools of leveraged loans with varying risk and return levels ranging from triple-A to single-B or even an equity tranche.
"The reason we like CLOs right now — it's really one of our best ideas for income this year — is that yields are really high," Sokol said. "We would say, go where the yield is. And right now, that means the short end of the curve."
Since CLOs are floating rate, their "yields have gone up" after the Federal Reserve "raised rates aggressively over the last year." So, according to Sokol, yields for CLOs "are actually higher than longer duration."
The VanEck executive added that spreads on CLOs are also high relative to historical averages, which means investors are "getting a spread pickup versus similarly rated bonds and loans, and that pickup is higher than usual." This suggests that the CLO market has priced in any potential uncertainty, whether that take the form of "an economic slowdown or weaker earnings."
Another reason why Sokol likes CLOs, particularly investment-grade CLOs, is because they insulate investors "from deterioration in the portfolio because of various structural risk protections that are built in."
"So, we think CLOs offer a very compelling combination right now of attractive yield but also high-quality exposure," he added.
Last year, VanEck launched the actively managed VanEck CLO ETF (CLOI A) in partnership with PineBridge Investments.
"The CLO asset class has been one of the best performing fixed income asset class over the last decade," Sokol said, adding that the reason for this is because it provides opportunities for "enhanced yield if you go beyond triple-A only because you have this entire capital structure."
Having said that, Sokol noted that he thinks, when investing in CLOs beyond triple-A securities, "you need to be active," which is "where PineBridge comes in with security selection, allocating the portfolio where they see value, and adding or reducing risk, depending on market conditions."
For more news, information, and analysis, visit the Beyond Basic Beta Channel.
---
Content continues below advertisement