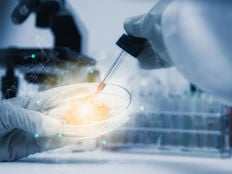 Beyond Basic Beta Channel
Pharmaceuticals stocks and ETFs, including the VanEck Vectors Pharmaceutical ETF (PPH A-), rallied Friday after Senate Majority Leader Mitch McConnell (R-KY) said a House effort to lower drug prices led by Speaker Nancy Pelosi (D-CA) will not be considered by the Senate.
"Senate committees have passed their own versions but the GOP is not united on the issue. Deep-pocketed drug makers are spending millions on lobbyists to ensure that there will be no substantial constraints on prices," according to Seeking Alpha.
Changing political winds and the seasonal period for drugmakers to hike their prices could trigger short-term volatility in pharmaceutical sector-related ETFs.
However, requests to drug manufacturers may fall on deaf ears, especially with many of them struggling to generate sales growth and underperforming the broader equity market for most of the past couple of years. Drug producers are unlikely to forego one of the easier ways to quickly turn a profit by raising their top and bottom lines through price hikes.
Pelosi is pushing a bill that would have Medicare negotiate lower prices for 25 popular prescription drugs.
This article originally appeared on ETFTrends.com
McConnell's Not A Fan
McConnell called the plan a "socialist" effort.
"Socialist price controls will do a lot of left-wing damage to the healthcare system. And of course we're not going to be calling up a bill like that," said the Senate majority leader, according to Politico.
PPH, which has nearly $150 million in assets under management, tracks the MVIS US Listed Pharmaceutical 25 Index. That index "is intended to track the overall performance of companies involved in pharmaceuticals, including pharmaceutical research and development as well a production, marketing and sales of pharmaceuticals," according to VanEck.
Related: 8 ETFs to Capture Opportunities in Healthcare Sector
Top holdings in PPH include AstraZeneca (AZN), Merck (MRK) and GlaxoSmithKline (GSK).
"The Senate package contains some elements of Pelosi's plan to bring down drug prices by capping expenses for seniors with Medicare prescription drug coverage and restraining drug increases," reports Politico. "But is does not contain negotiating provisions Pelosi is seeking. Many Republicans don't like that bill to begin with, but they dislike Pelosi's plan even more."
---
Content continues below advertisement