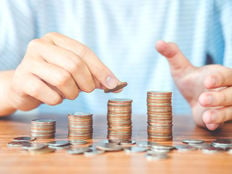 Beyond Basic Beta Channel
A raft of high-yield asset classes are benefiting from lower interest rates this year, preferred stocks among them. The VanEck Vectors Preferred Securities ex Financials ETF (PFXF B) is one of the preferred avenues to preferred stocks.
PFXF seeks to replicate as closely as possible, before fees and expenses, the price and yield performance of the Wells Fargo Hybrid and Preferred Securities ex Financials Index. The Index is intended to track the overall performance of U.S.-listed preferred securities excluding those with a financial sector classification, including securities that, in Wells Fargo Securities LLC's judgment, are functionally equivalent to preferred securities such as convertible securities, depository preferred securities and perpetual subordinated debt.
"The expanding search for yield has also led income-focused investors to look beyond traditional debt to other income-producing assets, such as preferred securities, which have historically offered higher yield than a company's common stock or senior debt," said VanEck in a recent note.
Preferred Push For 2020
Preferred stocks are a type of hybrid security that show bond- and equity-like characteristics. The shares are issued by financial institutions, utilities, and telecom companies, among others. Within the securities hierarchy, preferreds are senior to common stocks but junior to corporate bonds. Additionally, preferred stocks issue dividends regularly, but investors don't usually enjoy capital appreciation on par with common shares.
Preferred stock also acts like a bond. Par value is assigned on issue, and this price rises or falls based on interest rates. When interest rates go up, the par value of the shares is diminished, just like bonds. Some preferred shares even have a maturity date where the investors' capital is returned. Finally, some preferred shares are callable, meaning the company can decide at any time to repurchase the shares (although usually at a premium).
""Preferred securities":https://www.vaneck.com/blogs/etf-insights/preferred-stocks-income-opportunity-amid-falling-rates/ present another equity income opportunity in the current environment, serving as a complement to a portfolio's core fixed income allocation alongside or in place of high yield debt," notes VanEck. "Historically, a company's preferred securities have offered higher yield than its common stock or senior debt, and they have low correlations with equities and traditional fixed income instruments."
Related: NOBL Cements Its Status as Leader Among Dividend ETFs
PFXF stands out due to its exclusion of preferred stocks issued by financial services, which dominate rival preferred ETFs.
"Targeting preferred securities ex-financials may provide investors with a yield premium," according to VanEck. "With financials now accounting for 70% of the U.S. preferred market, excluding traditional financial companies may result in more diverse sector exposure, reducing concentration risk without sacrificing yield. Excluding financials also increases the proportion of preferreds paying cumulative distributions and lowers the proportion of securities reaching near-term call dates."
This article originally appeared on ETFTrends.com.
---
Content continues below advertisement