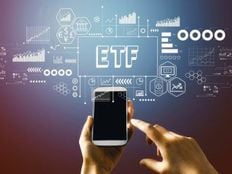 Beyond Basic Beta Channel
In investing, quality and value are coveted traits and that's amplified when the stock in question also qualifies as a wide moat name. Finding all three qualifications under one umbrella is no easy task.
However, some exchange traded funds ease that burden. That group includes the (MOAT B+) – the pioneer of wide moat investing via the ETF wrapper. The $7.3 billion MOAT follows the Morningstar® Wide Moat Focus Index, which is a basket of wide moat stocks exhibiting quality traits and attractive valuations.
While there's considerable debate surrounding how to define quality as an investment factor, it's not debatable that this style rewards investors over the long term, potentially enhancing the allure of strategies such as MOAT.
"The stocks of high-quality companies tend to have high profitability and strong balance sheets. Historically, Morningstar researchers say, higher-quality stocks perform better over time than less-profitable and more highly indebted counterparts. They also tend to protect against downturns and be less risky than lower-quality stocks," wrote Morningstar analyst Lauren Solberg.
As noted above, MOAT follows the Morningstar® Wide Moat Focus Index. However, some of that benchmark's components also reside in the Morningstar US Quality Factor Index, which is comprised of highly profitable firms with low debt ratios.
Alone, the overlap between MOAT and the quality index is good news for investors considering the VanEck ETF. But there's more and the "more" includes some MOAT member firms currently residing in undervalued territory. That includes Facebook parent Meta Platforms (NASDAQ: META), MOAT's largest holding at a weight of 3.27%.
"The growth in users and user engagement, along with the valuable data that they generate, makes Meta's platforms attractive to advertisers. The combination of these valuable assets and our expectation that advertisers will continue to shift their spending online bodes well for the firm's top-line growth and cash flow," noted Morningstar analyst Ali Mogharabi.
Graphics software provider Adobe Inc. (NASDAQ: ADBE), which accounts for 2.52% of the MOAT roster, is another example of a high-quality name in the ETF that sports attractive valuations.
"For Adobe overall we assign a wide moat, arising from switching costs and network effects. Based on the company's segments, we believe digital media has a wide moat from switching costs and network effects, digital experience has a narrow moat arising from switching costs, and publishing has a narrow moat from switching costs," according to Morningstar's Dan Romanoff.
Other MOAT components that are high-quality/low-valuation names are Google parent Alphabet (NASDAQ: GOOG), Microsoft (NASDAQ: MSFT), and Veeva Systems (NASDAQ: VEEV).
For more news, information, and analysis, visit the Beyond Basic Beta Channel.