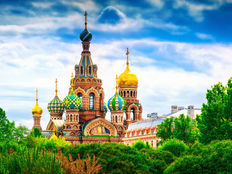 Beyond Basic Beta Channel
Somewhat quietly, the VanEck Vectors Russia ETF (RSX B), the largest Russia ETF trading in the U.S., is up more than 27% year-to-date, outpacing the MSCI Emerging Markets Index by a 3-to-1 margin.
RSX tracks the MVIS Russia Index, "which includes publicly traded companies that are incorporated in Russia or that are incorporated outside of Russia but has at least 50% of their revenues/related assets in Russia," according to VanEck. Some market observers believe Russian stocks can continue rallying.
Recent options market data indicates some traders are looking to protect long positions in RSX, a strategy that makes sense, particularly with the fund looking like it's breaking out on a technical basis on its way to new highs.
On Thursday, "more than 12,000 options overall have traded today — roughly four times the daily average. Leading the way is the January 2020 23-strike put, where traders may be buying to open positions. If so, they'd be looking for RSX to fall below the $23 level by the time the contracts expire in January," according to Schaeffer's Investment Research.
Rolling With RSX
As always, oil prices are a major story with Russian stocks, confirming that RSX's 2019 performance has been all the more impressive against the backdrop of volatile Brent crude price action.
Russian crude oil producers have also seen revenue from rising oil magnified due to the weakening ruble currency as crude oil is priced in U.S. dollars, which helped the industry achieve record-breaking revenue and shrink debts. While Russia is a dominant oil-producing and is pumping crude at post-Soviet era records, there is more to the economic story there.
"Looking back at recent action at the International Securities Exchange (ISE), Cboe Options Exchange (CBOE), and NASDAQ OMX PHLX (PHLX), traders have mostly been buying to open RSX calls, with the 10-day call/put volume ratio coming in at 1.21. There's been a big build-up in open interest in the November series at the 23, 24, and 25 calls, which could act as an added layer of options-related resistance in the near term," according to Schaeffer's.
While Russian stocks are usually more volatile than broader emerging markets benchmarks, investors are compensated for that risk with low valuations and above-average dividend yields. For its part, RSX yields over 4%.
This article originally appeared on ETFTrends.com
---
Content continues below advertisement