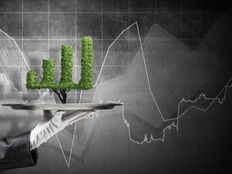 Beyond Basic Beta Channel
The low volatility factor is getting plenty of love these days, and investors looking to ETFs to access that factor should remember it can be applied beyond the confines of U.S. borders. Reduced volatility can also work with a broad basket of global equities as highlighted by the iShares Edge MSCI Min Vol Global ETF (ACWV A-).
The low-volatility factor investments work on the idea that they help cushion against market turns, limiting drawdowns that investors experience while providing upside potential. Consequently, the low- or min-vol strategies may produce better risk-adjusted returns over the long haul, which has been backed by extensive academic research.
ACWB "seeks to track the investment results of an index composed of developed and emerging market equities that, in the aggregate, have lower volatility characteristics relative to the broader developed and emerging equity markets," according to iShares.
The $5.14 billion ETF follows the MSCI All Country World Minimum Volatility Index and holds 444 stocks. ACWV debuted nearly eight years ago.
ACWV's "strategy uses constraints to promote diversification. It limits individual stocks to 1.5% of the portfolio while country and sector weights are held within 5% of their weights in the parent index," said Morningstar in a recent note. "Turnover also gets capped at 10% during each semiannual rebalance to mitigate trading costs. The portfolio holds less than 20% of the stocks in its parent index. But it still diversifies stock-specific risk with only 10% of its assets in its 10 largest names."
Assessing ACWV And Going Global
ACWV makes good on the low vol promise as highlighted by a three-year standard deviation of just over 8%. That's below the comparable metric on major cap-weighted benchmarks, such as the S&P 500, MSCI EAFE Index and the MSCI Emerging Markets Index.
As a global fund, ACWV includes U.S. equities to the tune of 51.42%. Japan and Switzerland are the next largest country weights, combining for over 18%.
ACWV "should lag the MSCI ACWI during rallies but hold up better when the market declines. This should outweigh the upside it sacrifices in bull markets and lead to better risk-adjusted performance over the long haul," according to Morningstar. "Behavioral biases may create mispricing among defensive stocks that can help performance. But even without mispricing, the portfolio's focus on stocks with low correlations should reduce risk without necessarily hurting returns."
Related: A Global ETF That Gets Defensive
More importantly, ACWV has been doing what it's supposed to do over its nearly eight years on the market.
"This fund was launched in October 2011, and so far, it has lived up to its billing," said Morningstar. "Its volatility was 27% lower than the MSCI ACWI from November 2011 through May 2019 while its total return was comparable. This helped it perform better on a risk-adjusted basis, with a Sharpe ratio of 1.12 compared with 0.72 for the cap-weighted benchmark. Its maximum drawdown was also shallower, losing 7.5% between May 2015 and February 2016 compared with 13.5% for the index."
The research firm has a Silver rating on ACWV.
This article originally appeared on ETFtrends.com.
---
Content continues below advertisement