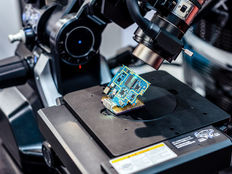 Beyond Basic Beta Channel
Despite increasing trade war rhetoric, the VanEck Vectors Semiconductor ETF (SMH A-) is maintaining an impressive year-to-date gain of 29% even after a rough August for chip stocks and some market observers believe semiconductor equities could be poised for more upside into the end of the year.
Integral to that thesis is repairing the damaged US/China trade relationship. Previously, President Trump said that the U.S. will eliminate any attachments with Chinese multinational technology company Huawei on Friday as well. The decision to block Huawei was arrived at after China stemmed buying American agricultural products in retaliation for the president's unexpected tariffs threat last week. China also permitted its currency to depreciate against the dollar to a key level unseen since 2008, likely in an effort to make Chinese exports cheaper and outperform U.S. products.
"Semiconductor and semiconductor-equipment makers belong to an inherently cyclical industry that sees periodic episodes of booming growth followed by inventory corrections—the current situation," reports Nicholas Jasinski for Barron's. "After strong industrywide sales growth of 8% in 2018 excluding memory, the sector is on track for a 6% drop this year."
Sinking Into Semis
Some analysts see positive supply and demand trends bolstering chip names in the latter stages of 2019.
"JPMorgan analyst Harlan Sur sees that outperformance continuing through the second half of 2019 as both supply and demand sides of the equation improve for semiconductor companies," according to Barron's.
Integral to the fortunes of SMH are the performances of growth-ier chip fare, such as Advanced Micro Devices (AMD) and Nvidia (NVDA). Nvidia accounts for more than 5% of SMH's roster.
"AMD's semi-custom processors have been included in the Microsoft Xbox One and Sony PlayStation 4 game consoles," wrote Morningstar sector strategist Abhinav Davuluri in a recent note. "AMD has also sought to re-establish itself in the server market, reaching mid-single-digit unit share exiting 2018. In 2019, AMD has key product launches including new client CPUs, EPYC server CPUs, and Radeon data center GPUs."
Related: Technology And Semiconductor ETFs Are Rallying
For investors considering SMH, there's another favorable factor: semiconductor demand is usually robust late in the year.
"The end of the year is a seasonally strong period for orders of chips used in PCs, smartphones, and gaming consoles," according to Barron's. "Ongoing 5G deployment in the U.S. and abroad will boost demand for wireless infrastructure products."
This article originally appeared on ETFTrends.com.
---
Content continues below advertisement