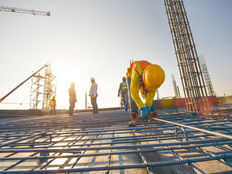 Tactical Allocation Channel
Steel-related ETFs have rebounded along with the broader markets, but a potential supply glut could upend the recovery.
Year-to-date, the VanEck Vectors Steel ETF (SLX B+), the lone steel sector-specific ETF, increased 15.9% and the SPDR Metals & Mining ETF (XME A), which is designed to track the broad metals and mining segment, including a significant tilt toward steel, gained 14.3%.
However, Bank of America Merrill Lynch warned that a price-crushing steel glut or what the bank calls "Steelmageddon" could drag down the sector, CNBC reports.
The bank's analysts argued that over the next few years, new project startups could produce an oversupply of steel commodities. The next wave of new additions is expected to come online by 2022, as U.S. steel capacity expands by 20%, inundating the market with steel and putting pressure on steelmakers' profit margins. Merrill also predicts the U.S. industry to tighten its belts as new electric arc furnaces replace older blast furnaces.
The so-called Steelmaggedon should discourage most long-term investors from hammering into the place.
"This purge of inefficient capacity can ultimately result in a leaner, more competitive, streamlined U.S. steel industry," Merrill Lynch analysts Timna Tanners and Wilfredo Ortiz wrote in a research note. "After the dust clears from Steelmageddon, an attractive steel industry could emerge. But we would warn investors the path for the next several years of upheaval can be treacherous."
Over the more short-term, Merrill Lynch predicts steel prices to remain roughly at their current levels, with benchmark hot rolled coil hovering around $650 to $750 per ton. However, prices will fall off to $550 to $660 per tone into 2021 and 2022.
"In the medium term, none of the U.S. steel mills look secure," Merrill added. "While we note blast furnace operators likely lose share and shut capacity, all mills suffer from low prices when excess capacity hits the market, in our view."
For more information on the steel industry, visit our steel category.