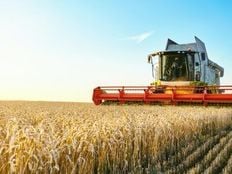 Beyond Basic Beta Channel
Last Friday, Deere (NYSE: DE), the agriculture equipment behemoth, delighted analysts and investors with stellar fiscal first-quarter results.
Deere said it earned $6.55 a share on $11.4 billion in equipment sales, well ahead of the $5.57 a share and $11.3 billion in equipment sales analysts expected. The company also projected fiscal 2023 net income of $8.75 billion and $9.25 billion, up from prior guidance of $8 billion to $8.5 billion.
That's potentially good news for a variety of exchange traded funds. To be precise, 218 ETFs hold shares of Deere, but some have larger weights to the farm machinery maker than others. Additionally, some issuers feature more ETFs with notable Deere allocations than others.
Take the case of VanEck. In order, the (MOO C), (YUMY ) and the (HAP B-) are the ETFs with the third-, fourth- and fifth-largest Deere weights, respectively. The following comments underscore why those statuses could be boons for those ETFs.
"Deere's first-quarter performance is a reflection of favorable market fundamentals and healthy demand for our equipment as well as solid execution on the part of our employees, dealers, and suppliers to get products to our customers," said CEO John May in a statement. "We are, at the same time, benefiting from an improved operating environment, which is contributing to higher levels of production."
The $1.3 billion MOO follows the MVIS Global Agribusiness Index and is the seasoned veteran of the agribusiness ETF category as it will turn 16 years old in August.  Deere is the third-largest component in MOO at a weight of 7.18%, as of Feb. 16.
YUMY, the youngest of the three VanEck ETFs mentioned here, has a 5.47% allocation to that stock and it's the fund's third-largest holding. However, that exposure can change over time because YUMY is an actively managed ETF.
The $143.4 million HAP, which follows the VanEck  Natural Resources Index, features Deere as its largest holding at a weight of 5.42%. In each case, these VanEck ETFs are positioned to benefit from Deere's impressive fundamental outlook.
"Deere is looking forward to another strong year on the basis of positive fundamentals, low machine inventories, and a continuation of solid execution," May added in the statement. "We are proud of our recent performance and remain fully committed to helping our customers do their jobs in a more profitable, productive, and sustainable way. We have confidence in our ability to execute on our leap ambitions and run our businesses with real purpose, real technology, and real impact."
For more news, information, and analysis, visit the Beyond Basic Beta Channel.