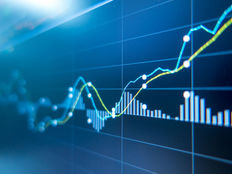 Tactical Allocation Channel
If small-cap stocks and ETFs renew their bullishness in earnest, there's a reasonable chance the Invesco S&P SmallCap Information Technology (PSCT A-) will be part of the leadership group. PSCT struggled last month, but the fund is up 24% year-to-date, putting it ahead of a slew of traditional, diversified small-cap ETFs.
PSCT tracks the S&P SmallCap 600 Capped Information Technology Index. While the various sector-specific ETFs provide broad exposure to their targeted segments, investors should keep in mind that there are differences in the different ETF offerings.
Small-capitalization stocks have attracted a lot of attention to the escalating trade tensions, fueled by fears over a potential slowdown in global growth. Consequently, many anticipated that small-caps could weather the storm as large multi-nationals with a large global footprint suffered from trade disputes.
Jim Paulsen, chief investment strategist at Leuthold Group, "argues that small-cap tech looks like a bargain compared with large-cap peers. The S&P 600 Small-Cap Technology index trades at about half the valuation of the S&P 500 Technology index, he writes. That's down from 0.9 times for small-cap tech in 2013, and it's well below the 18% average premium for small-cap tech since 2003 (based on a composite valuation of price/earnings, price/book, and price/cash flow)," reports Daren Fonda for Barron's.
Perusing PSCT
PSCT's 80 holdings are "are principally engaged in the business of providing information technology-related products and services, including computer hardware and software, Internet, electronics and semiconductors and communication technologies," according to Invesco.
The fund's holdings have an average market capitalization of $1.92 billion. PSCT allocates 30% of its weight to semiconductor names and almost 29% to electronic components makers.
While small-cap tech stocks may seem like risky bets in the current environment, there are some compelling reasons to consider the asset class.
Related: Focusing on Disruptive Innovation for Changing Markets
"Paulsen argues that if we get slightly better economic data, including a bump in inflation, small-caps should outperform since they tend to do well when inflation is picking up," according to Barron's. "He also notes that small-cap tech volatility has spiked, relative to large-cap tech. That has often preceded a period of small-cap outperformance. Analyst price targets for small-cap tech also imply bigger gains, with small-caps expected to appreciate 11% more than large-cap tech peers."
This article originally appeared on ETFTrends.com
---
Content continues below advertisement