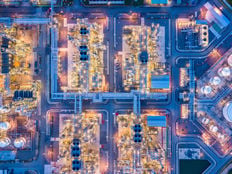 Beyond Basic Beta Channel
Energy ETFs have been drubbed this month, but the VanEck Vectors Oil Refiners ETF (CRAK ) is one name from the group that has near-term rebound potential.
CRAK tracks the MVIS Global Oil Refiners Index. That index "is a rules-based, modified capitalization-weighted index intended to give investors a means of tracking the overall performance of companies involved in crude oil refining which may include: gasoline, diesel, jet fuel, fuel oil, naphtha, and other petrochemicals," according to VanEck.
CRAK and refiner equities don't necessarily need oil prices to rally; they need demand and price stability. The U.S. refining sub-sector has been one of the most profitable sectors in the U.S. economy over the past five years.
"Profits from turning crude into diesel in the second half of 2019 are forecast to be about 31% higher than the first six months, according to Goldman Sachs Group Inc.," reports Bloomberg. "Margins have already expanded around 40% since late April as International Maritime Organization rules that prohibit ships from using dirty fuel from Jan. 1 are set to bolster diesel demand while cutting fuel oil use."
Considering CRAK ETF
As U.S. oil output has soared to record heights, the country has become a major crude exporter. There are benefits to that scenario, but it also exposes the domestic energy patch to trade volatility, such as the tensions seen between the U.S. and China earlier this year.
All else equal, if investors fear a slowdown in China could lead to a decrease in the global demand for oil; it might be a good time to consider oil refiners. Historically, economic slowdowns have negatively impacted crude oil prices and widened the crack spread. As the input for refiners gets cheaper it boosts their profit margins and improves their profitability.
Related: Best ETFs to Gain Exposure to Energy Sector Recovery
"Tighter gasoline supply will also support an overall improvement in Asian refining margins, Goldman said. Heavy residue like vacuum gasoil can be used more as IMO-compliant fuels, meaning less volumes will be cracked into gasoline," Bloomberg reports, citing Goldman Sachs.
Discounted crude could help oil refiners, like Phillips 66 and HollyFrontier Corp., that capitalized on the difference between their cheap input costs and higher-end prices for refined goods like gasoline and diesel.
This article originally appeared on ETFTrends.com.
---
Content continues below advertisement