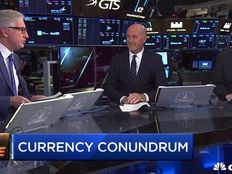 Beyond Basic Beta Channel
ETF Trends CEO Tom Lydon joined "ETF Edge" host Bob Pisani and CFRA's Todd Rosenbluth on CNBC's "Halftime Report" on Monday to discuss how to make the most out of currency hedging ETF plays.
"We haven't been paying attention to currencies for a while," Lydon said. "But now, especially with the trade wars going on, the dollar continues to be strong in the US. If you don't hedge your currency with your overseas investment, you're betting on that local currency. So why not take out that risk?"
Pisani brought up the nature of currency ETFs and highlighted how they have been losing money in the past few years.
Shifting to Rosenbluth's thoughts on why people don't use currency hedged ETFs in a more significant way, he explained how these ETFs used to be popular a few years ago, but now funds like the WisdomTree Europe Hedged Equity Fund (HEDJ B) has lost $8 billion in the last three years, making it a $3 billion ETF, despite outperforming other European ETFs.
When asked if that's going to change, given that currency is now seen as a major issue, Rosenbluth noted the dependency on whether the U.S. dollar continues to strengthen.
"If it does, then investors might take a closer look at wanting to reduce the volatility in their international equity portfolios," Rosenbluth said.
Pisani added that Europe wasn't the only place where the currency effect was hitting portfolios. He brought up how emerging markets, a hedge, could make the difference between positive and negative returns in 2019.
Pisani noted emerging markets ETFs were generally flat for the year, including the iShares Currency Hedged MSCI Emerging Market ETF (HEEM B).
In response, Lydon explained how the effects regarding currency are similar.
"If you're looking for valuations, everyone's talking about the great valuations; almost 40% off in P.E.s, compared to the US," he said, adding it's essential to look at, but noted how China devaluing their currency will cause emerging markets to follow.
Pisani pointed out the ETFs around the world that were also taking a hit, including the Global X MSCI Argentina ETF (ARGT A-) following Sunday's primary election and its unexpected result. Lydon added how recent turmoil has also affected Brazil and Greece, only to see them turn it around. "So if you're tactical in nature, that might be something to consider," he said.
Watch Tom Lydon Speak on How to Hedge Your Currency:
---
Content continues below advertisement
For more market trends, visit ETFdb.