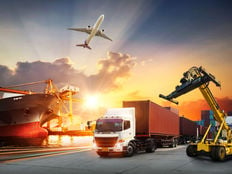 Beyond Basic Beta Channel
Heading into Monday, the iShares Transportation Average ETF (IYT A+), the largest ETF dedicated to transportation stocks, was higher by nearly 19% year-to-date. That's an impressive performance considering the myriad headwinds the group has faced this year.
IYT seeks to track the investment results of the Dow Jones Transportation Average Index composed of U.S. equities in the transportation sector. The underlying index measures the performance of large, well-known companies within the transportation sector of the U.S. equity market.
Home to nearly $517 million in assets under management, IYT provides exposure to five transportation sub-industry groups with railroad operators being the largest allocation at 31.28% of the fund's weight. Due to seismic shifts in the electric power market, railroad equities could be pinched over the long-term.
"Coal demand from utilities to drop by more than 50% by 2030, weighing on US railroads," said Moody's Investors Service in a recent note. "Credit effects are likely manageable if the decline remains gradual. Eroding thermal coal demand will significantly affect US freight railroads' coal shipments, highlighting that the environmental risks posed by coal extend from miners and users to transporters of coal. Our Utilities team's forecast implies that coal demand would decline by about 7% per annum on average over the next 10 years, which would translate into roughly $5 billion in lost revenues for the railroads or 5.5% of 2018 industry revenue."
Transportation Trouble
Some market observers believe trucking stocks, integral components of the Dow Jones Transportation Average Index, could prove surprisingly durable in a recession. The transportation sector is widely viewed as a gauge for economic activity since the companies transport the raw materials and goods that power the economy and manufacturing. That could be an assist to IYT and rival funds if railroad stocks dither.
The transportation index is a key metric for analysts to watch in terms of assessing the health of the broad market. As far as any potential roadblocks for transportation ETFs, given the way the sector has risen at a rapid rate thus far this year, the rally could stall at some point.
Related: U.S.-China Trade War Puts Transportation ETFs on Notice
With domestic coal demand and production faltering, railroads need to find other avenues to make up for that lost revenue.
"Railroads are likely to offset some of the lost coal shipments with growth in other freight. Growth in intermodal freight largely offset coal carloads that were lost over the last 10 years," according to Moody's. "Improving service from operating models based on precision scheduled railroading (PSR) will help railroads to compete for more time-sensitive freight such as intermodal."
This article originally appeared on ETFTrends.com
---
Content continues below advertisement