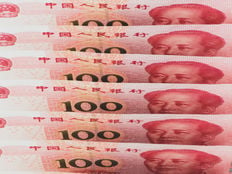 Beyond Basic Beta Channel
Bonds might be the obvious choice for a safe haven, income-producing asset, but where do you go when you want to get higher yields? China might have the answer with their latest bond offering, which is garnering the interest of U.S. investors.
A recent Wall Street Journal article noted that "China raised $6 billion with its latest international bond sale, matching a record set last year, ahead of economic data that is likely to show growth is recovering toward pre-pandemic levels. Despite heightened tensions with the U.S., this was China's first bond sale in recent years targeted partly at investors in America."
Additionally, "U.S. buyers snapped up large chunks of the four-part deal, including 47% of a $500 million offering of 30-year debt, according to one of the banks that handled the sale." What's driving this interest?
It could be China's rebounding economy. After being the epicenter of the virus, China's economy is making a comeback.
"Economic indicators like retail sales and export data show China is shaking off the effects of the coronavirus," the article added. "Gross domestic product figures due Monday are likely to show growth rose to 5.3% from a year earlier in the third quarter, according to economists polled by The Wall Street Journal. That is up from 3.2% a quarter earlier and approaching the 6.1% rate for all of 2019."
Here are a pair of China-focused bond exchange-traded funds (ETFs) fixed income investors can consider:
VanEck Vectors ChinaAMC China Bond

ETF

(

CBON

): seeks to replicate as closely as possible, before fees and expenses, the price and yield performance of the ChinaBond China High Quality Bond Index. The fund normally invests at least 80% of its total assets in securities that comprise the fund's benchmark index. The index is comprised of fixed-rate, Renminbi ("RMB")-denominated bonds issued in the People's Republic of China ("China" or the "PRC") by Chinese credit, governmental and quasi-governmental (e.g., policy banks) issuers ("RMB Bonds").
KraneShares

CCBS

China Corporate High Yield Bond

USD

Index

ETF

(

KCCB

): seeks to provide investment results that, before fees and expenses, track the price and yield performance of a specific fixed income securities index. The fund's current index is the Solactive

USD

China Corporate High Yield Bond Index. Under normal circumstances, the fund will invest at least 80% of its total assets in components of the underlying index and to-be-announced transactions representing such components. The underlying index seeks to track the performance of outstanding high yield debt securities denominated in U.S. dollars issued by Chinese companies.
---
Content continues below advertisement