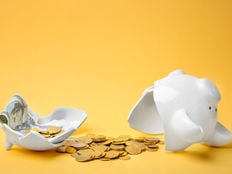 Beyond Basic Beta Channel
A recent spate of slack economic data has plenty of market observers speculating that the Federal Reserve could again lower interest rates, perhaps as soon as this month, and that chatter is pressuring bank ETFs, including the SPDR S&P Bank ETF (KBE A).
Banks typically make their money off the difference between long-term loans and deposits. With yields rising on later-dated debt, banks will be able to set more lucrative interest rates on loans and go back to generating greater profits on core businesses.
KBE is off nearly 4% over the past week. On Friday, the Labor Department said the U.S. added 136,000 jobs in September while the unemployment rate dipped to 3.5%. That was welcomed news after two slack ISM reports (manufacturing and services) out earlier in the week. Prior to the jobs number, bearish options traders were seen stepping into KBE.
On Thursday, "almost 7,600 put options have changed hands, six times the average intraday rate, and 84 times the number of calls trading. Leading the charge are the October 41 and 39 puts, where it looks like a trader is rolling down their position to the 39 puts during today's weakness, likely betting on more downside in the coming days," according to Schaeffer's Investment Research.
Traders Talk Tepid Market Volatility
Traders previously warned banks could face pressure as tepid market volatility could have contributed to more muted trading desk activity. Furthermore, the Federal Reserve has signaled its intentions to cut interest rates, which would further hurt the banking industry's ability to generate profits from lending.
Some analysts question whether the sector strength can continue through the rest of 2019. During the second-quarter earnings season, banks frequently guided lower on net interest margins.
Related: Bigger Yields Could be Coming to Bank ETFs
In KBE, "put buying had picked up in a big way coming into today, too. The 10-day put/call volume ratio jumped to 24.66 at the International Securities Exchange (ISE), Cboe Options Exchange (CBOE), and NASDAQ OMX PHLX (PHLX), putting the reading in the top quartile of its annual range," notes Schaeffer's.
One thing to consider is that U.S. banks generate massive percentages of their revenue and earnings on a domestic basis, indicating the group has been perhaps unfairly battered as the broader market has declined due to trade tensions
This article originally appeared on ETFTrends.com.
---
Content continues below advertisement