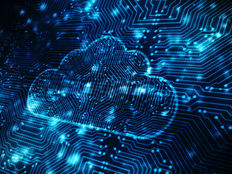 Thematic Investing Channel
Per a Bloomberg report, U.S.-China trade deal negotiations now include the addition of a cloud computing concession that would allow foreign companies to access the $12 billion Chinese market–a boon for tech-related China exchange-traded funds (ETFs).
According to the report, Chinese officials met with company representatives from the likes of Microsoft Corp, Apple Inc and Amazon.com Inc to discuss this cloud computing proposal in more detail. Those familiar with the meeting said said discussions revolved around eliminating the requirement that providers of remote computing services form joint ventures with local companies.
In 2017, China implemented cyber-security laws to facilitate the collection and movement of Chinese users' data, as well as allow more government access to foreign companies' technology. Foreign cloud companies must license their respective technology to local partners prior to operating in China, which has forced them to store some information in the country.
In the meantime, the primary trigger event is still a U.S.-China trade deal that's still undergoing negotiations. While some analysts feel a trade deal is already priced into the markets, investors are hoping it could continue to help sustain the strong start for U.S. equities.
Ongoing trade negotiations between the U.S. and China have revolved around a wide range of issues, such as forced technology transfer as both are working feverishly to bring the trade war to an end. U.S. President Donald Trump has already imposed tariffs to the tune of $250 billion of Chinese imports in 2018.
In particular, the tariffs were meant to force China's hand in changing its business practices, particularly when it comes to issues, such as intellectual property–all as a means to get China to open up its economy to more foreign investors.
China is becoming less resistant to safeguarding its businesses, which will open the pathways to more foreign investment. China ETFs have also been the beneficiaries of index provider MSCI Inc. announcing recently that it would quadruple its weighting of large-cap Chinese shares in its benchmark indexes.
Similarly, equities based in mainland China and surrounding areas can benefit from a tangible trade deal, especially funds with a technology tilt. As such, here are three China tech ETFs that stand to benefit from the latest negotiations should the cloud computing provision become a reality:
1. Invesco China Technology ETF (CQQQ B-)
CQQQ is based on the AlphaShares China Technology Index, which is designed to measure the performance of the investable universe of publicly-traded information technology companies open to foreign investment that are based in mainland China, Hong Kong or Macau.
Top 3 Holdings as of today:
2. Global X MSCI China Information Technology ETF (CHIK)
CHIK tries to reflect the performance of the large- and mid-capitalization segments of the MSCI China Index that are classified in the Information Technology Sector as per the Global Industry Classification System.
Top 3 Holdings as of today:
Sunny Optical Tech: 9.68 percent
Xiaomi Corp: 8.35 percent
3. KraneShares CSI China Internet Fund (KWEB B+)
KWEB tracks a portfolio of Chinese internet and internet-related companies. The portfolio includes Chinese internet companies that provide similar services as Google, Facebook, Twitter, eBay and Amazon.
Top 3 Holdings as of today:
For more thematic investing ideas, visit our Thematic Investing Channel.
---
Content continues below advertisement