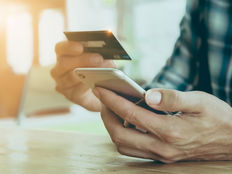 Thematic Investing Channel
However, there are compelling opportunities with consumer-related investments outside the U.S., too.
Consider the Global X MSCI China Consumer Discretionary ETF (CHIQ B-), which has performed inline with the Consumer Discret Sel Sect SPDR ETF (XLY A) year-to-date. CHIQ's underlying index "incorporates all eligible securities as per MSCI's Global Investable Market Index Methodology, including China A, B and H shares, Red chips, P chips and foreign listings, among others," according to Global X.
China has been looking to increase internal consumption to reduce the economy's sensitivity to exports and those efforts appear to be paying dividends. While some data points indicate the Chinese economy and consumer spending are slowing, policymakers remain proactive.
"Among the most powerful are those areas tied to the rising impact of China's consumers, who have experienced years of high wage growth, migration into cities, and an expansion of internet connectivity," said Global X in a recent note. "The government has also made consumption a priority as the economy transitions away from export-led industries."
Consumer Call in Sector ETFs
When it comes to sector ETFs, many investors solely focus on domestic offerings, but there are other ways to tap sector-level opportunities, including China ETFs. Investors considering China sector ETFs should note that there is likely to be dispersion among the various sectors, as is the case with domestic sector ETFs.
Data indicate there is ample room for growth in China's consumer cyclical sector, which is small relative to its American counterpart.
"China's Consumer Discretionary sector is the country's largest by total market cap, yet it is still just half the size of its US counterpart. This is despite the fact that China's population is four times larger than the US's and is experiencing a rapidly growing middle class, suggesting that the sector is still in its early stages of growth," according to Global X.
As it is in the U.S., e-commerce and online retail are significant contributors to China's consumer discretionary sector.
"As the world's leading e-commerce market, China accounts for more than 40% of the world's e-commerce transactions, up from just 1% from a decade ago," said Global X. "With rising highspeed internet coverage and broad adoption of mobile payments, e-commerce platforms in China are growing fastest in the country's smaller Tier 3 and 4 cities, where access to online stores provides greater convenience and wider selection to customers."
For more on thematic ETFs, please visit our Thematic Investing Channel.
---
Content continues below advertisement