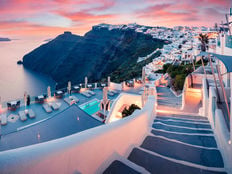 Thematic Investing Channel
The Global X MSCI Greece ETF (GREK B-), the only ETF dedicated to Greek stocks, got a boost on Wednesday as more plans emerged to shore up Greece's once downtrodden banks.
GREK is up nearly 37% year-to-date, making it one of the best-performing single-country ETFs. Greek stocks have been boosted by improving economic growth and a reform-minded government.
The country is trying to bolster growth and rebuild credibility with investors following a decade of international bailouts backed by the European Union and International Monetary Fund. Specifically, Greece will focus on lowering income and corporation tax, cutting VAT, making tax incentives more efficient for investors and abolishing emergency levies imposed during the Greek debt crisis that were required to meet bailout creditors' standards.
"Greece plans to provide as much as 9 billion euros ($10 billion) in state guarantees to help its banks reduce a mountain of soured debt weighing on their balance sheets, according to two people with knowledge of the matter," according to Bloomberg.
Good News
Bolstering Greek banks is important for GREK because the fund devotes 30.67% of its weight to the financial services sector, by far the fund's largest sector weight.
"Banks in Greece, Europe's most indebted country, hold some 75 billion euros in soured debt, boosting costs for provisions and restricting their ability to generate new loans. The guarantee program, known as an asset protection scheme, could cut that down by at least 20 billion euros, the government estimated when the plan was first floated about a year ago," according to Bloomberg.
Related: More Good News For The Greece ETF
Additionally, in September, Greece is expected to lift capital controls, which were previously imposed at the height of the Greek crisis, along with a deal for Athens to repay about one-third of the €8.5bn in bailout debt that it owes the IMF earlier than expected.
"While the Greek proposal was initiated by the previous government, Kyriakos Mitsotakis, who took over as prime minister two months ago, has made it a priority to finalize negotiations before a new European Commission assumes office in November," notes Bloomberg.
This article originally appeared on ETFTrends.com
---
Content continues below advertisement